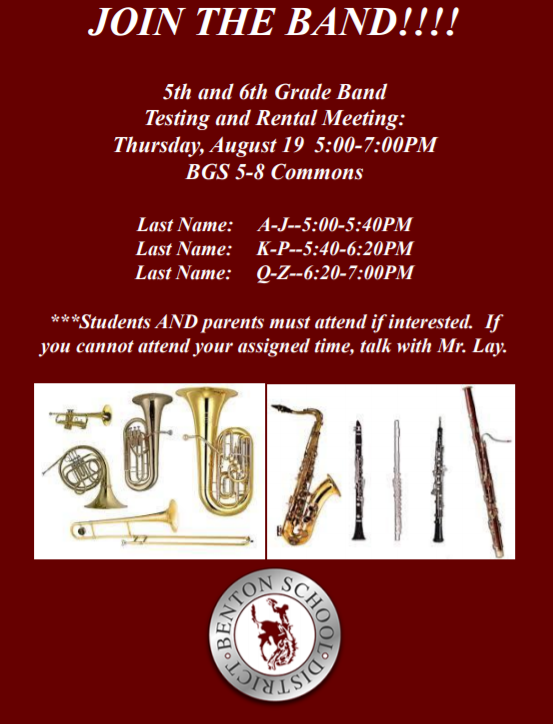 Benton Grade School offers instrumental music instruction for students in grades 5-8. New students may join the band program in 5th or 6th grade. Students are given the opportunity to see and hear the following instruments that are taught in the program: flute, oboe, clarinet, saxophone, trumpet, french horn, trombone, baritone, tuba, and percussion. Check out the band website for more information: https://sites.google.com/view/benton-grade-school-bands/home
Image
Other ensembles that may be available for students to join include Jazz Band, Drum Line, and small woodwind or brass ensembles. These are optional and all rehearsals would occur before or after school.


Beginning Band Informational Meeting
An informational meeting for parents and students will be scheduled towards the end of each school year. At this meeting, students are tested on which instrument they will play in band. Parents will also learn about the program and have an opportunity to rent an instrument.
Lessons and Rehearsals
All lessons and rehearsals are scheduled during the school day and are free of charge to all students. Students are highly encouraged to seek outside private lessons from musicians in the area.
Performances
5th and 6th Grade
Fifth and Sixth grade band members usually perform in two or three concerts a year.
Junior High Band
7th and 8th grade students who know how to play an instrument may sign-up for Junior High Band. Junior High Band is a graded scheduled class which meets daily. As part of this group, students will participate in marching band, pep band, and concert band. The group begins the year as a marching band, performing an average of 4 times from September through October. The Pep Band performs at 3 or 4 home basketball games. The Concert Band will perform a Christmas Concert, a Spring Concert, and performs at Organization Contest. Students in this group are graded on their performance, attitude, and work ethic.
For more Information
Visit the Band Website at: https://sites.google.com/view/benton-grade-school-bands/home

Contact Aaron Lay by email at alay@benton47.org or by calling the BGS 5-8 Office at 618-438-4011.