Softball Regional Championship Game: Saturday, September 25th (10:00 AM) at Du Quoin High School vs. West Frankfort. The bus will leave from the Event Center at 8:30 AM. Good luck tomorrow!

Please see the attachment for details about boys' and girls' basketball tryouts.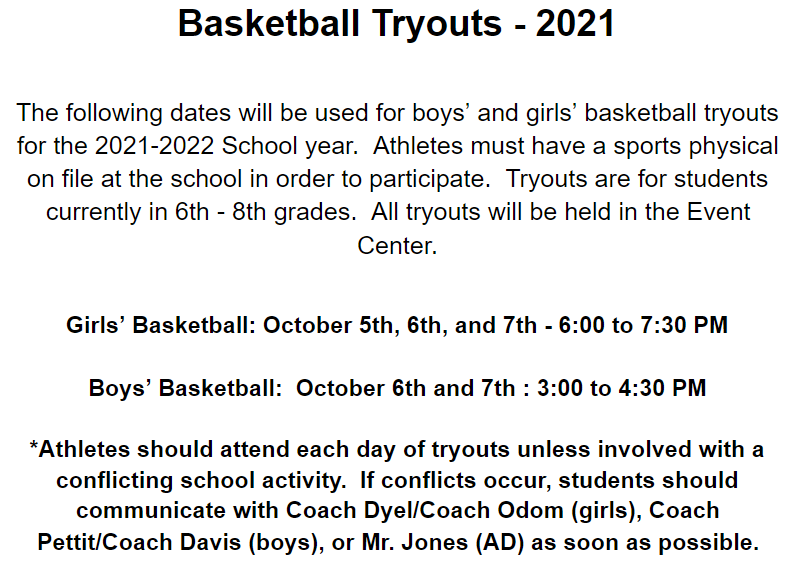 I was just informed that the start time for softball Saturday morning has been changed to 10:00 AM. The bus will leave from the Event Center at 8:30 AM.

Softball opened up regional play with an 8-3 win over Du Quoin! They will be back in action Saturday morning at 11:00 AM at Du Quoin to play for the regional championship. Good luck girls!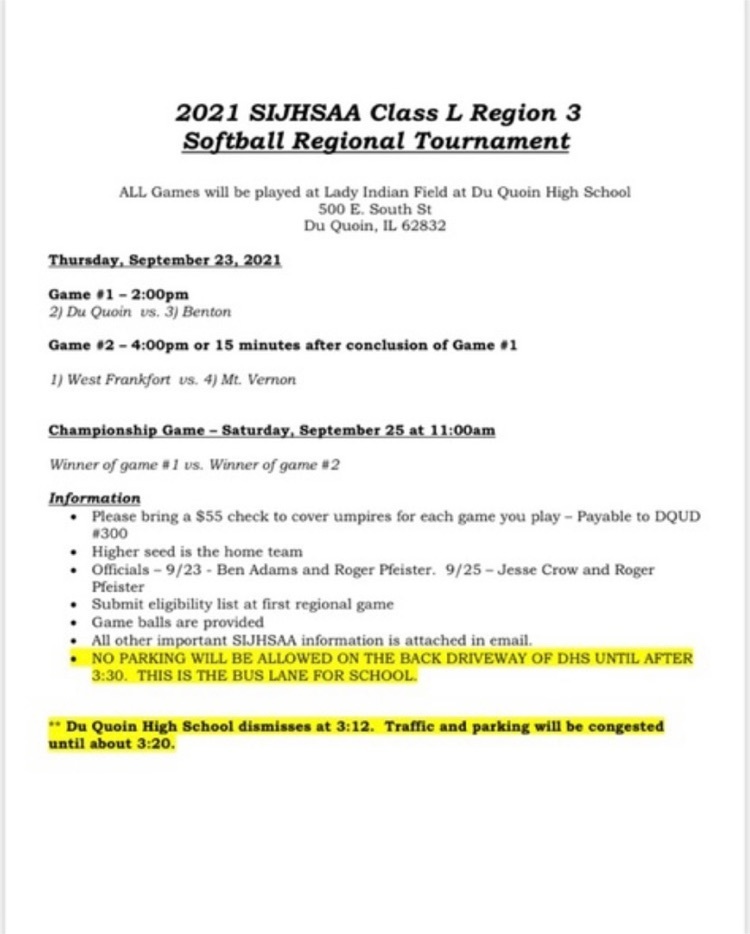 5-8 Announcements for 9/23/21: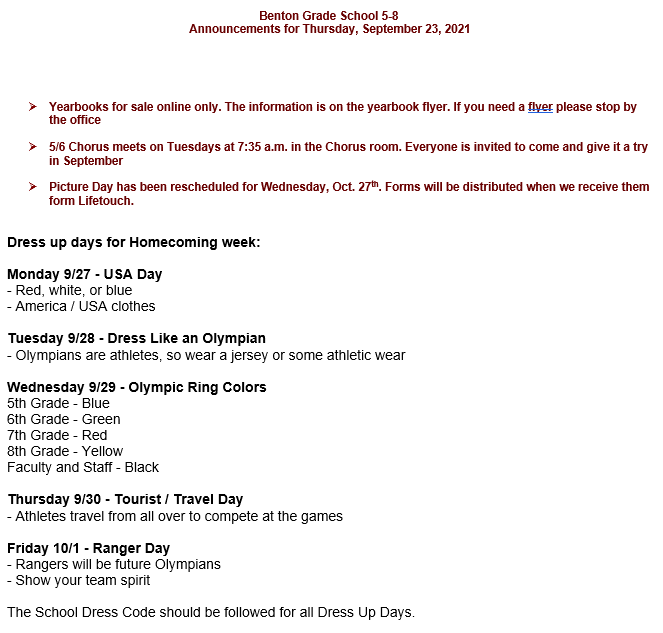 Baseball Regional Update: Tomorrow's game will be at Du Quoin with a start time of 4:00 PM. The bus will leave at 2:30 PM. With a win, the championship game is still scheduled for 3:30 PM on Friday in Mt. Vernon.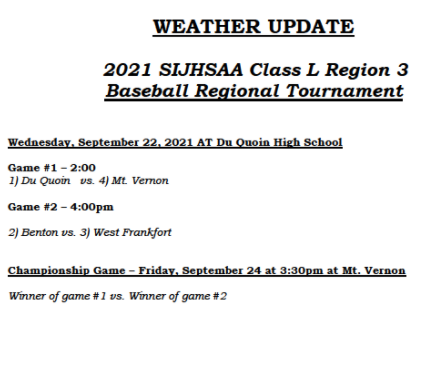 The softball game scheduled for today has been canceled. The girls will have the day off. Baseball will be practicing in 5-8 gym today from 3:00 - 4:30. Stay tuned for updates about a change in location for tomorrow's regional baseball game.

Basketball season is quickly approaching and tryouts will be here before we know it. We have a busy week ahead with baseball/softball post-season starting. By the end of the week, we will provide specific dates/times for basketball tryouts, but plan on them occurring during the first week of October. In the meantime, be prepared by making sure you have a sports physical on file at school if you plan on participating in tryouts.

5-8 Announcements for 9/20/21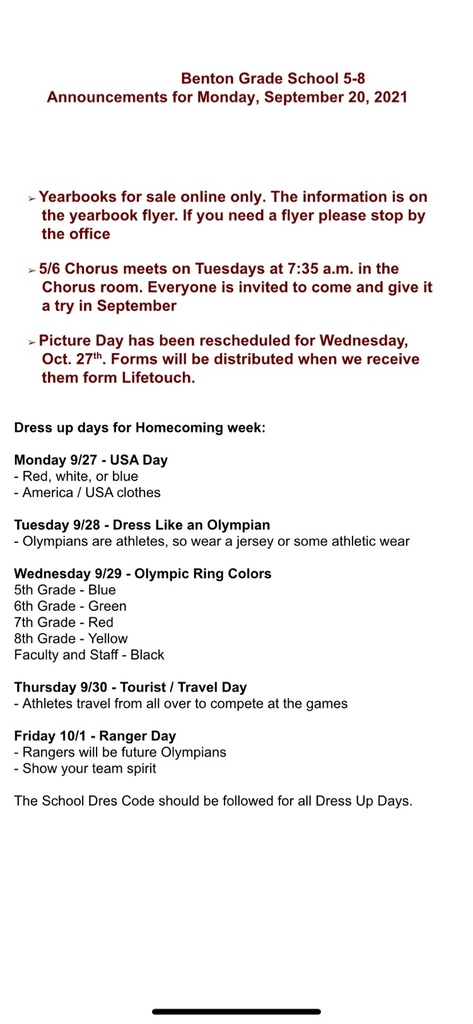 Activity calendar for 9/20 - 9/25 attached: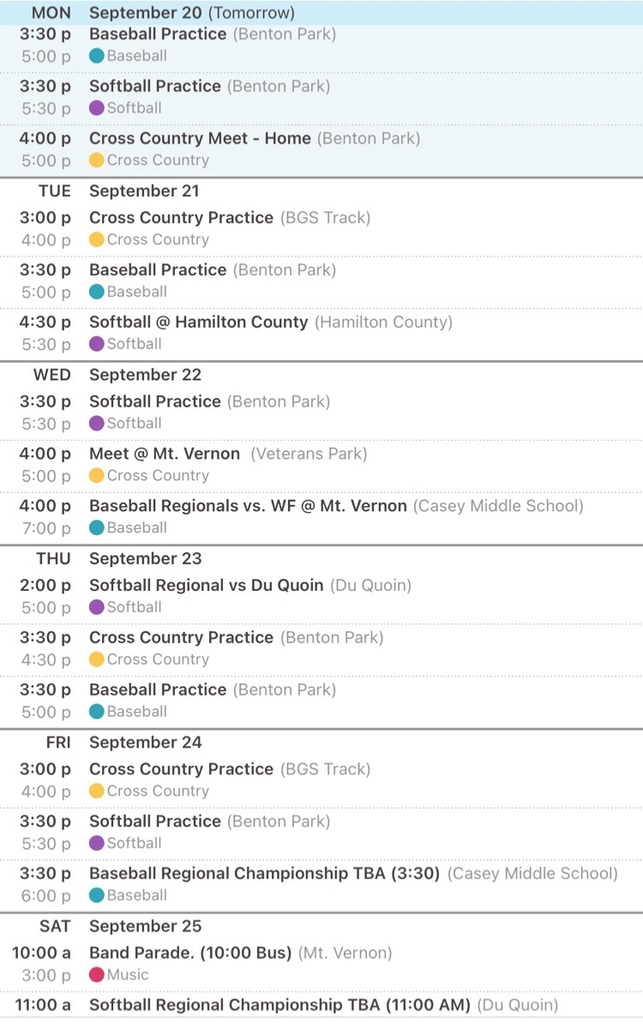 Softball Reminder: The softball team will be traveling to Ewing for a game today (4:30). The bus will leave at 3:45 PM from the Event Center. Weather permitting, softball will play at Hamilton County next Tuesday (4:30). A bus time will be given to the coaches as soon as possible.

Cross country competed in a 20 team meet against some great competition today. We had a lot of individual improvements and got better as a group. Top 30 in each division received a medal. We had 5 athletes medal: Kyler Rash 30th JV Boys; Jaycee Webb 4th & Kinley Glover 18th Varsity Girls, and Seiger Sanchez 9th & Zane Stanley 21st. Great job by all!!!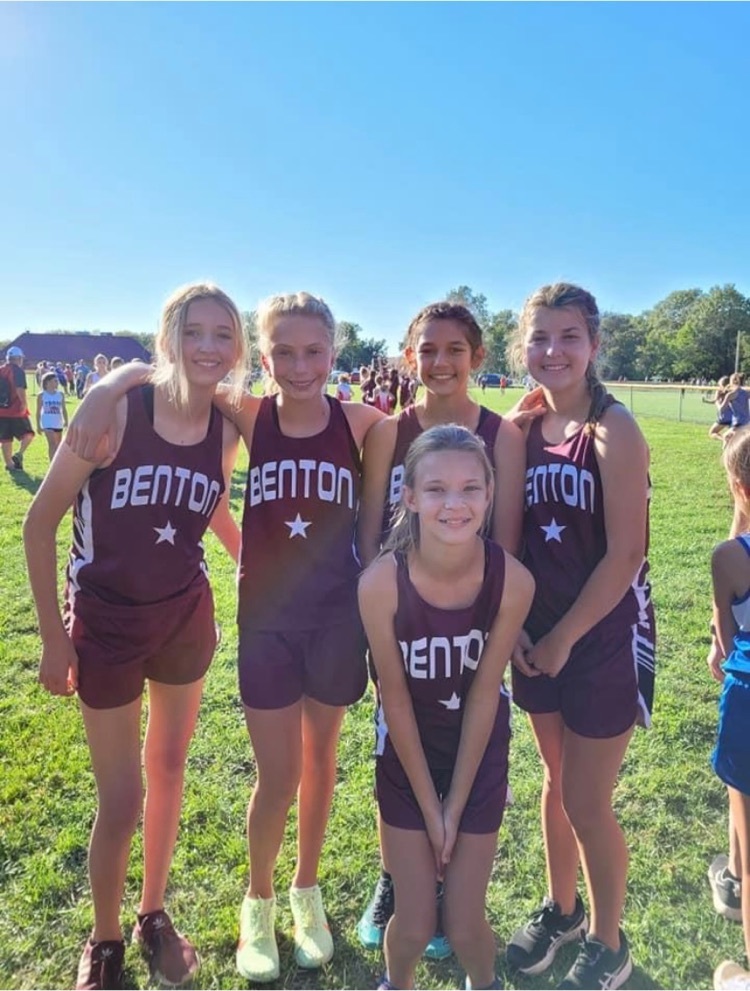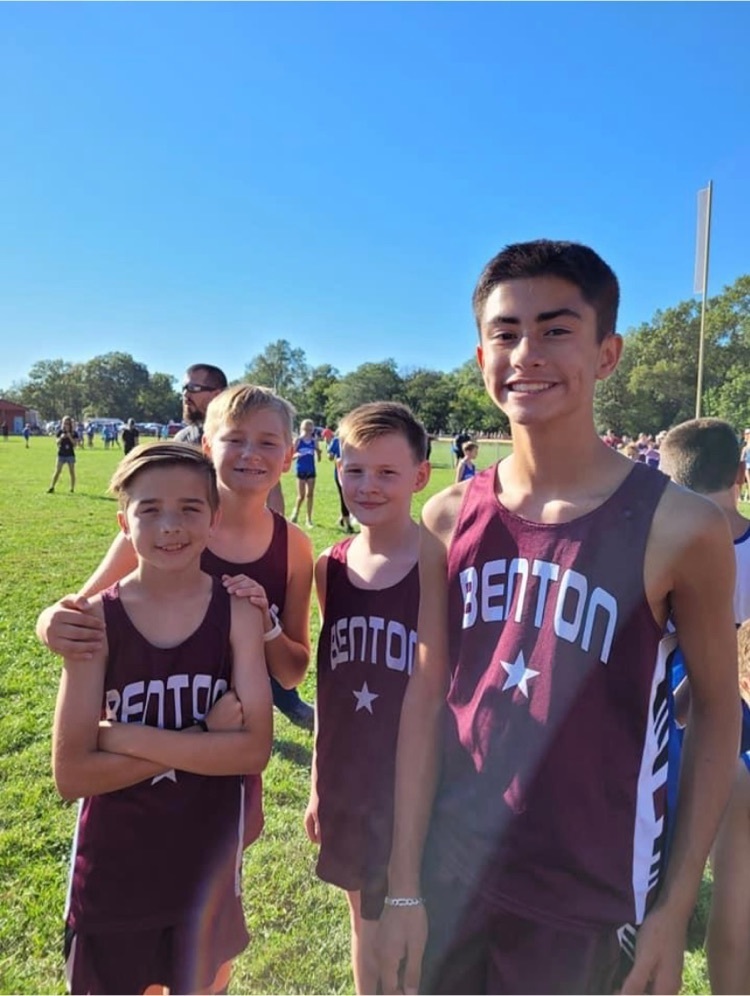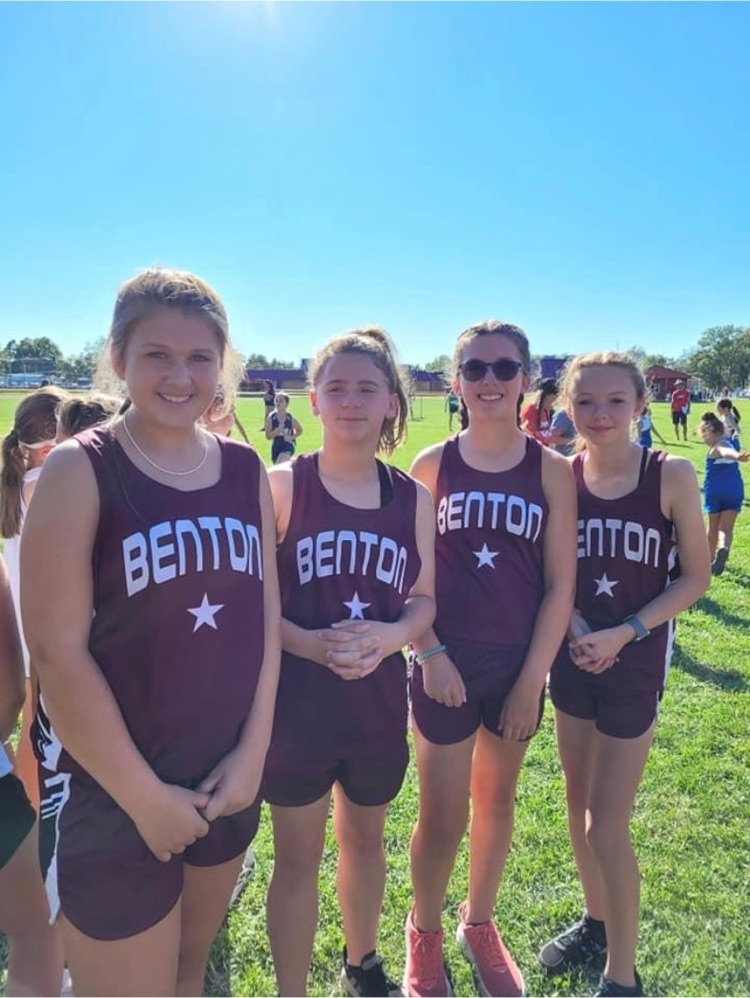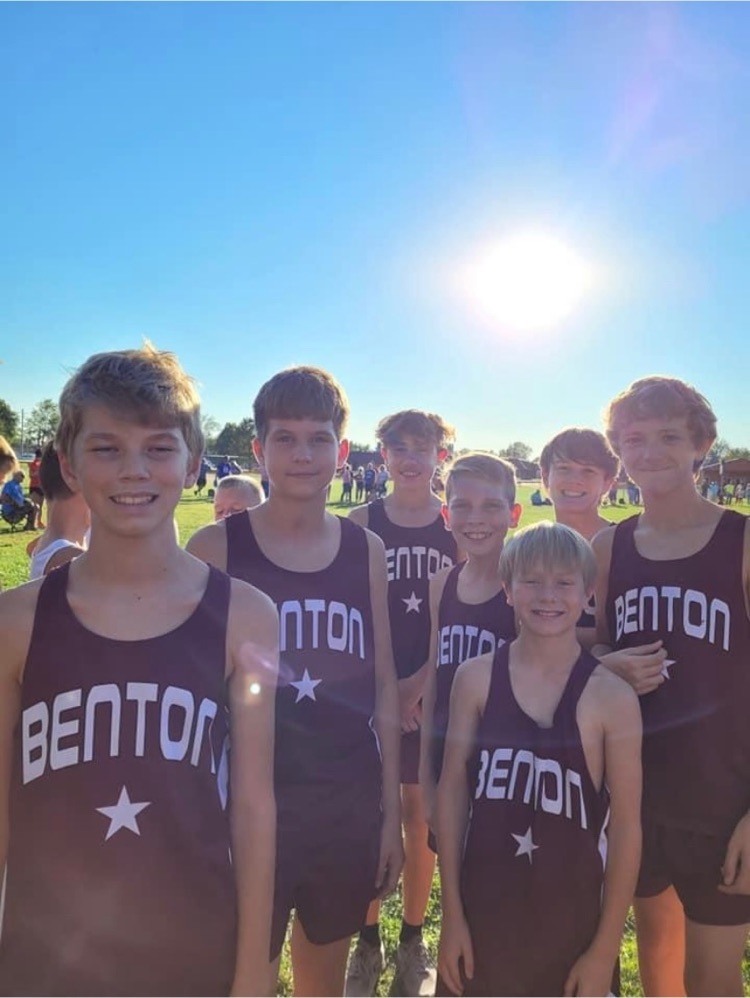 The baseball and softball regional pairings have been released. The baseball team plays on 9/22 at Mt. Vernon, against West Frankfort. The championship game is scheduled for 9/24 in Mt. Vernon at 3:30 PM. The Softball team plays Du Quoin, at Du Quoin on 9/23 at 2:00 PM. The championship game is scheduled for 9/25 at Du Quoin (11:00 AM). Brackets and any other details I have at this time have been attached.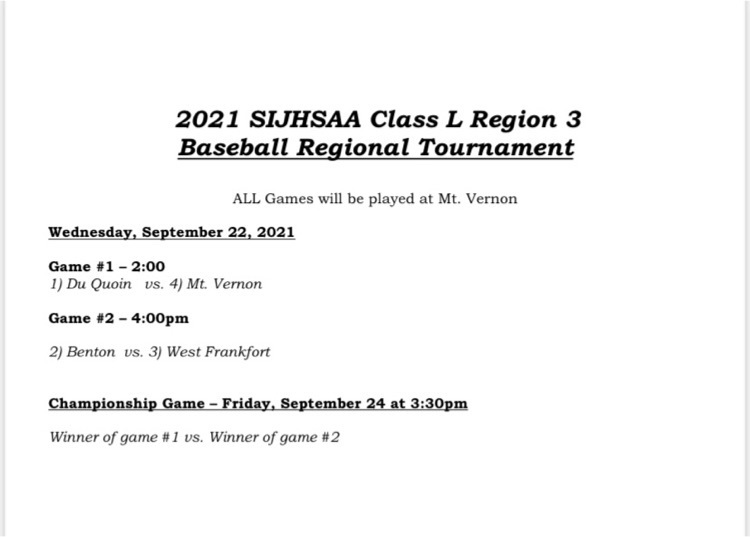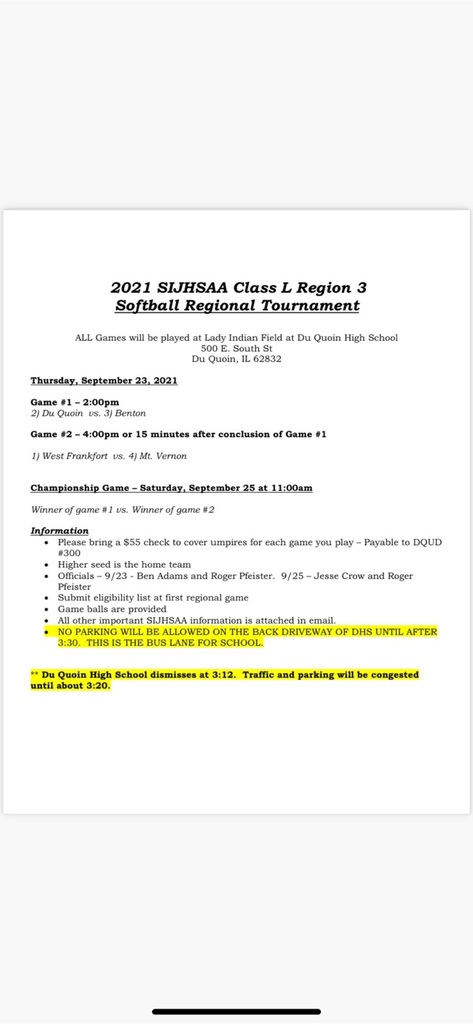 Weekly Athletic Calendar: 9/12/21 - 9/18/21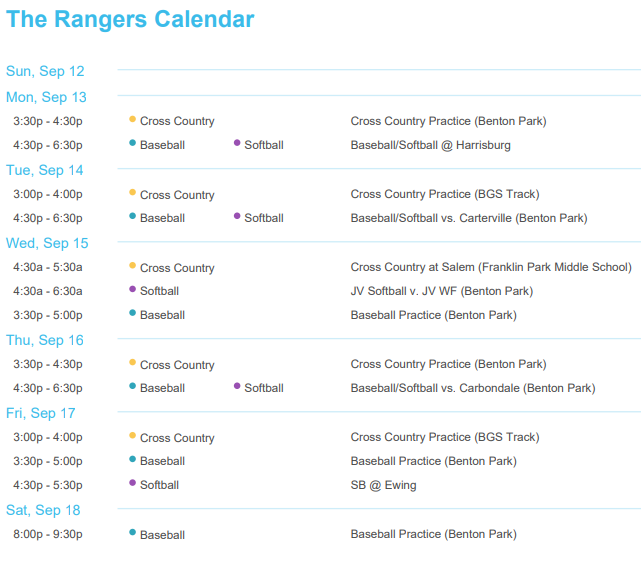 5-8 Announcements for 9-10-21:


The 5-8 picture day schedule for Friday, September 10th has been canceled. A new date will be announced once it has been scheduled.

5-8 Announcements for 9/9/21:

Christopher had to cancel the baseball/softball games originally scheduled for 9/17 due to homecoming activities. The softball team will now be playing at Ewing on 9/17 (4:30). At this time, baseball does not have a game scheduled. Regional schedules should be decided by the middle of next week.

Updated athletic schedule to include the make-up game at Carbondale on 9-11-21.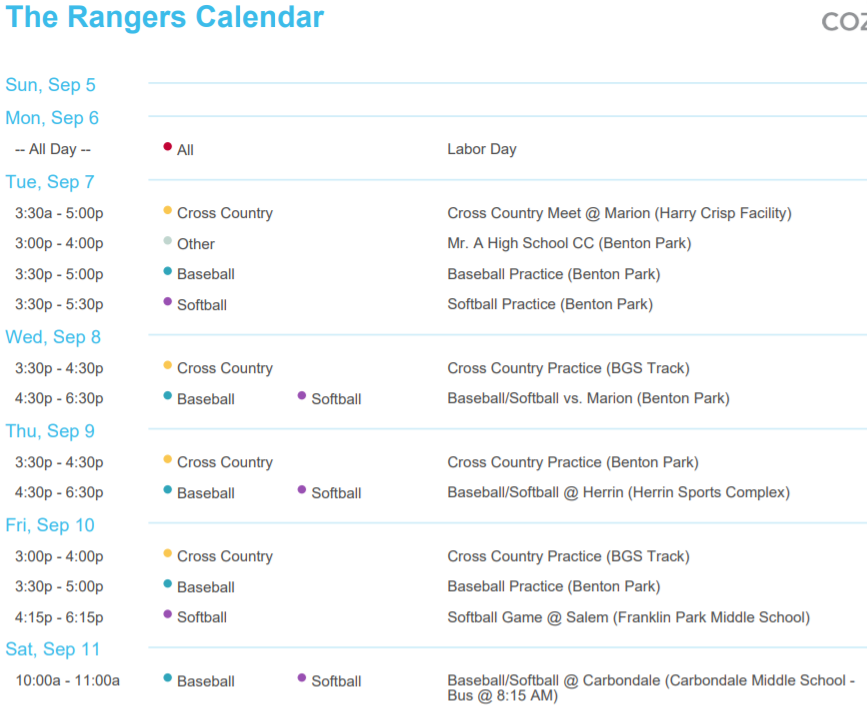 5-8 Announcements for 9-8-21: