Spectators are allowed at today's track meet in Carterville, but will need to stay in the bleachers throughout the meet.

Parker Johnson, 8th grade student athlete at BGS, has been named the SIJHSAA, Region 3, Jim Burnes Leadership Award recipient. Parker was select for his involvement in school activities, service within the community, grade point average, letters of recommendation, and an essay highlighting the importance of leadership as it relates to athletics. Congratulations on this outstanding recognition, Parker!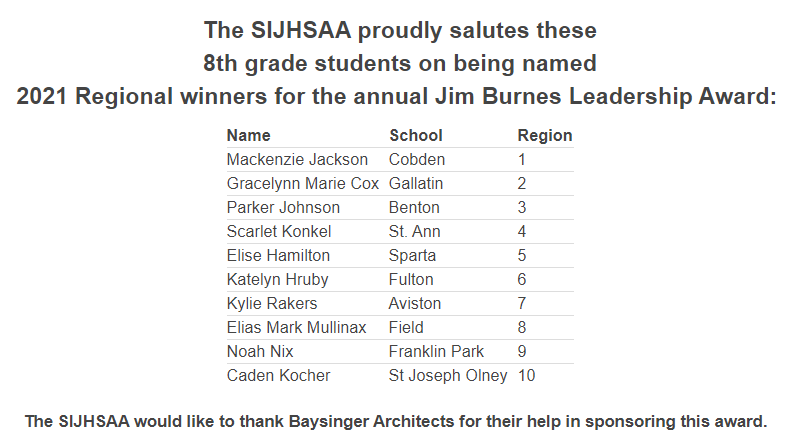 5-8 Announcements for 4-26-21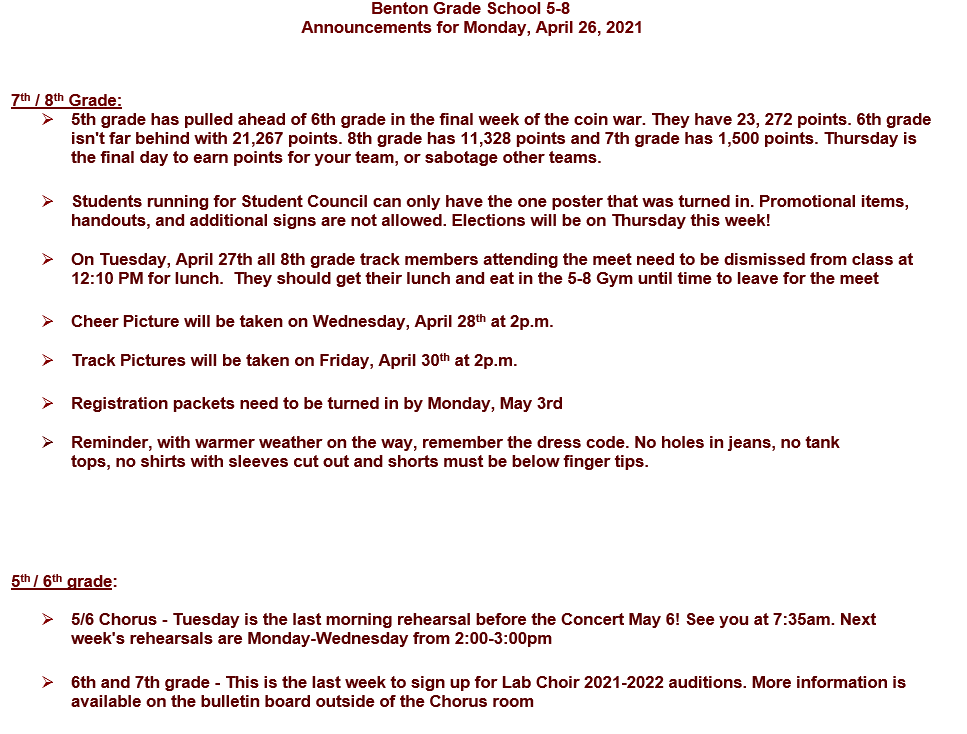 Join us live tonight (virtually) at 6PM for the Music Department's "Music In Our Schools Concert". Click on the link below to access the page. We hope you will tune in!
https://www.facebook.com/bgsrangerband

Activity Calendar: Week of 4-26-21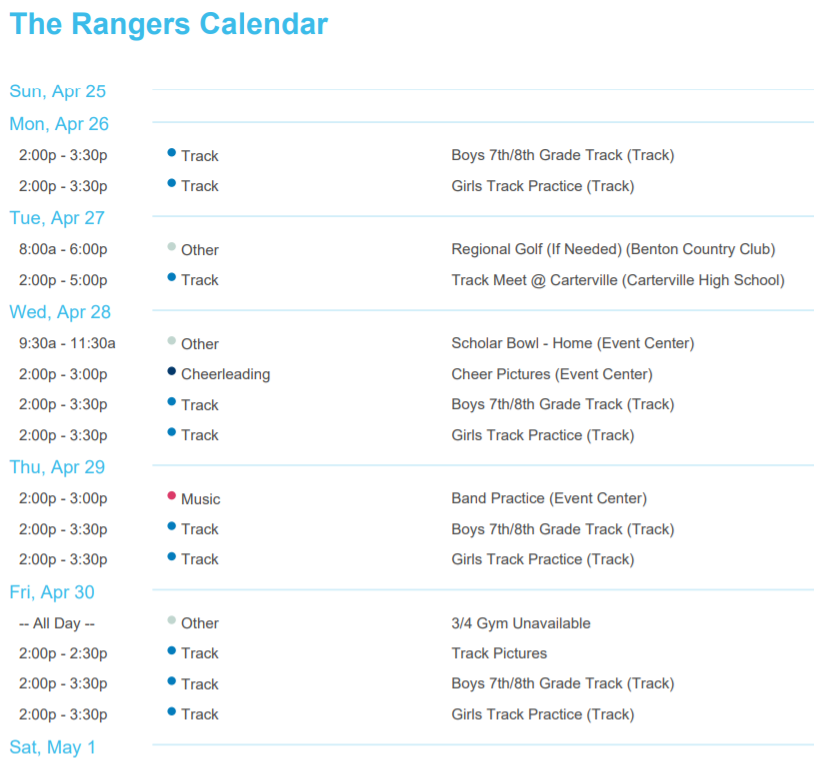 5-8 Announcements for 4-22-21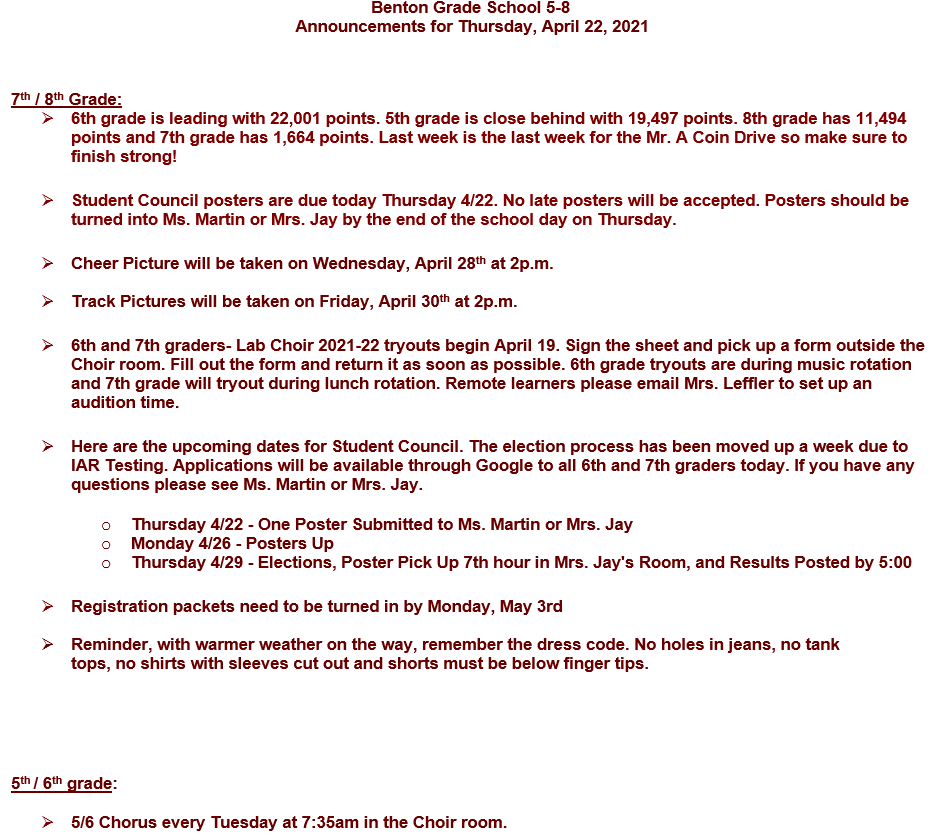 Check out the "News" section of our website for the Virtual Art Show that 7th and 8th grade art students have been working on throughout this school year. We have some excellent artist walking the halls of BGS! The slide show can be viewed on the app, but on a computer/Chromebook it can be viewed in full screen.
https://www.benton47.org/article/444043

5-8 Announcements for 4-20-21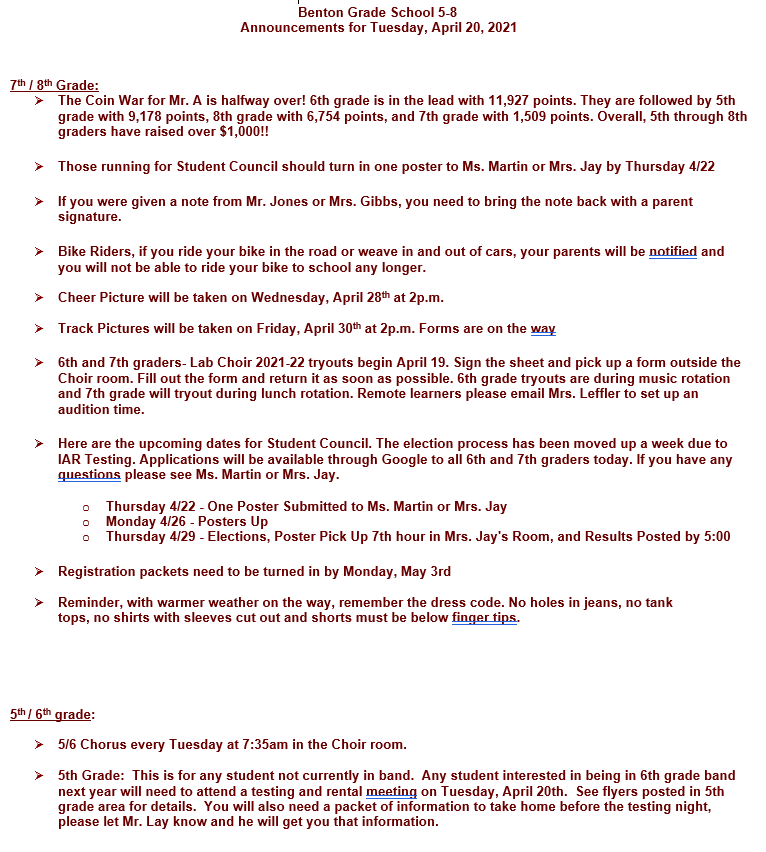 The track meet at Harrisburg that was scheduled for today has been canceled.

Kindergarten Registration & Screening dates announced. Please call (618) 438-7181 to schedule an appointment.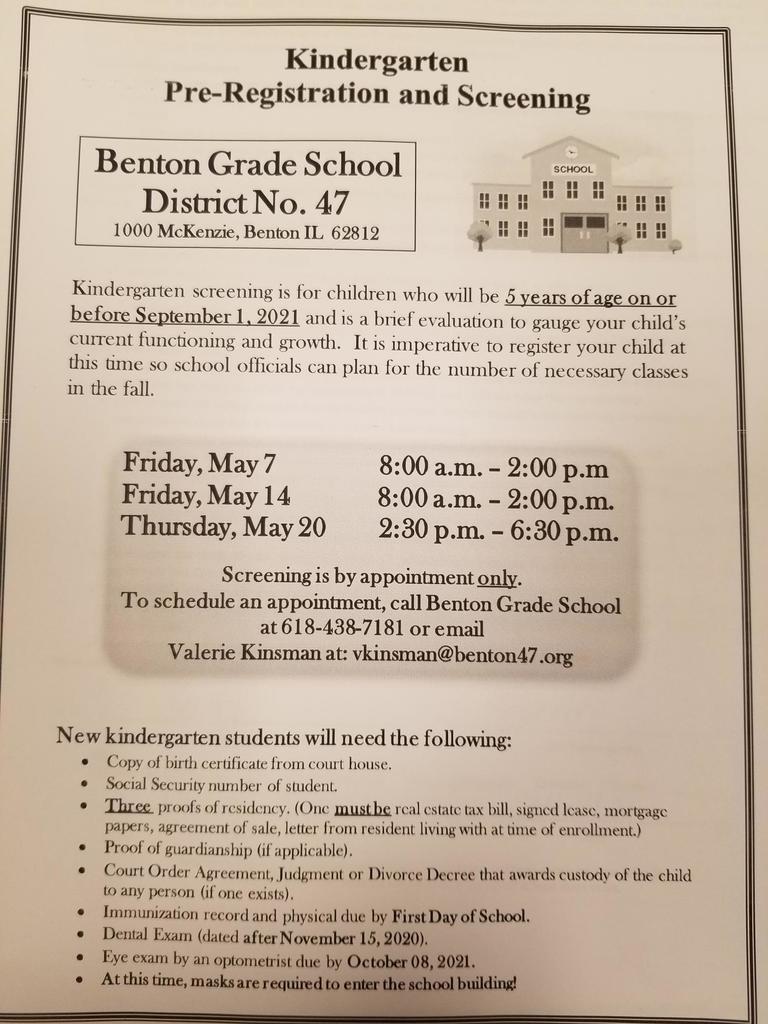 5-8 Announcements for 4-19-21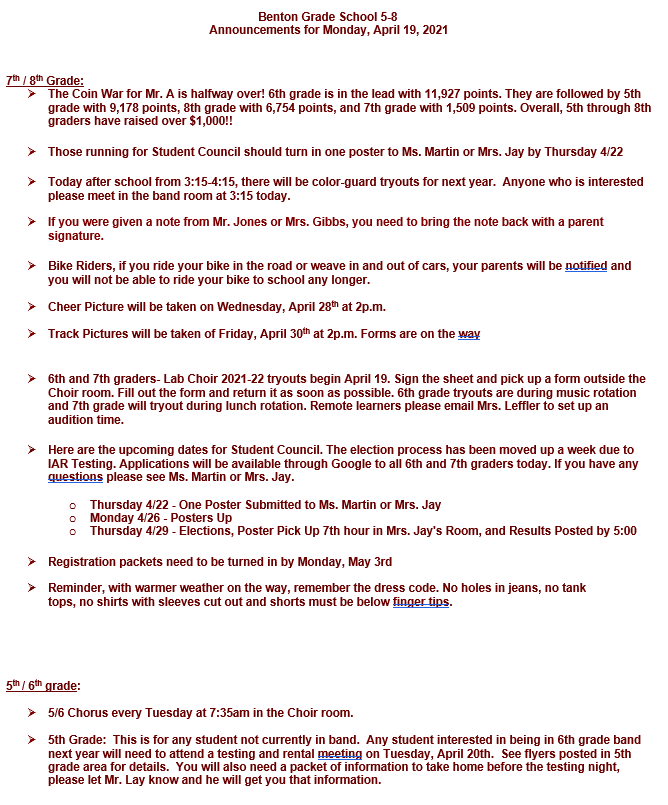 Athletic Calendar for 4/19/21-4/24/21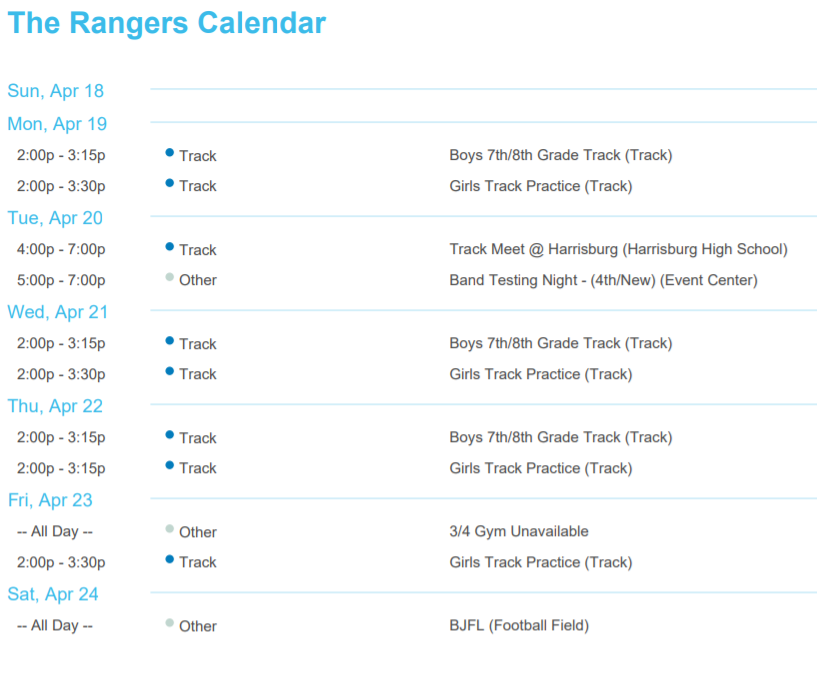 5-8 Announcements for 4-15-21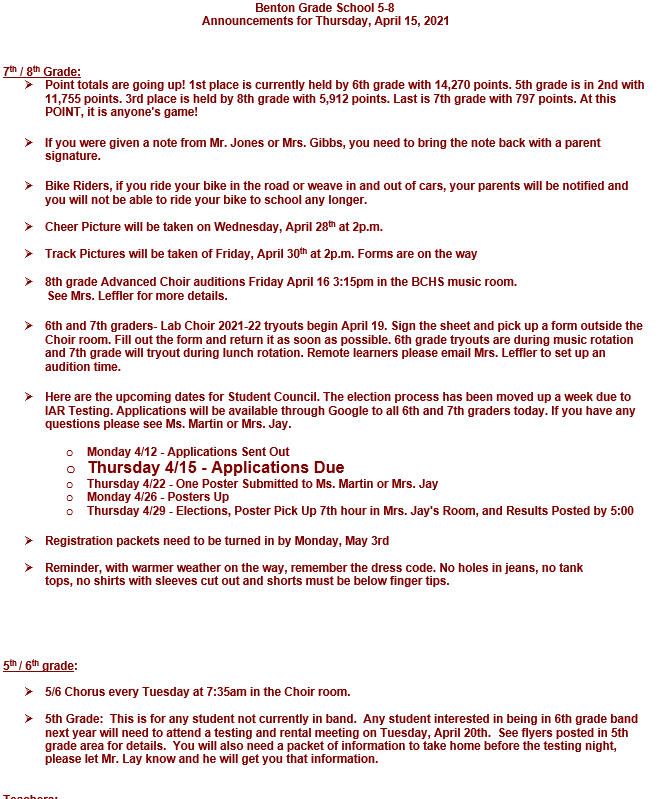 Track Schedule Change: Harrisburg had to change the start time of the track meet on Tuesday, April 20th to 4:00 PM. Our bus will leave the school at 2:45 PM. Spectators may attend this meet.

Pinckneyville is now allowing spectators at the track meet on Friday. Field events will start at 9:30 AM, followed by the track events. Parking information as well as a map for spectators has been attached to this post. The meet will be held at Pinckneyville High School.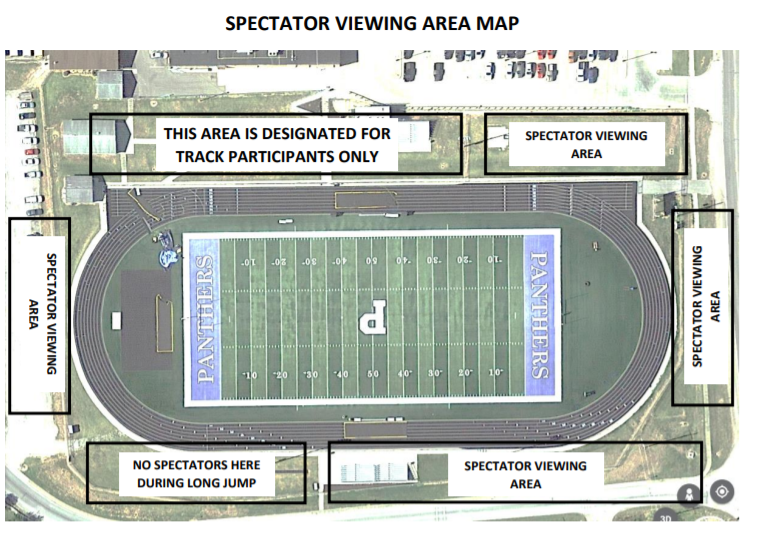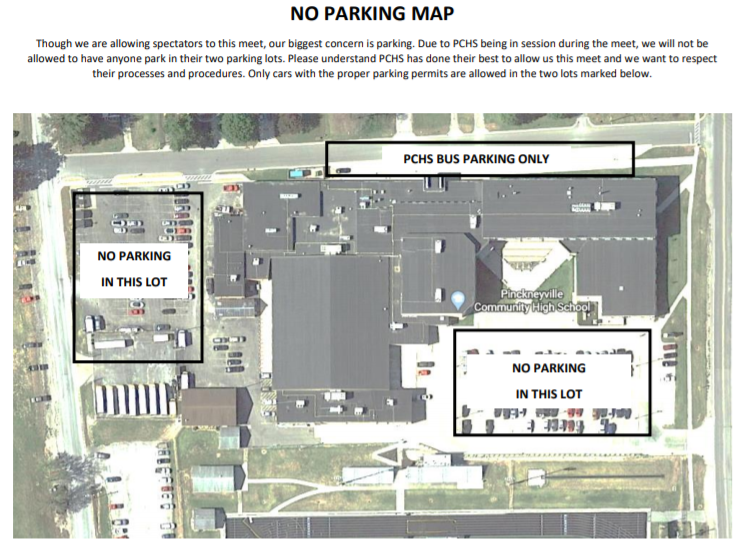 5-8 Announcements for 4-14-21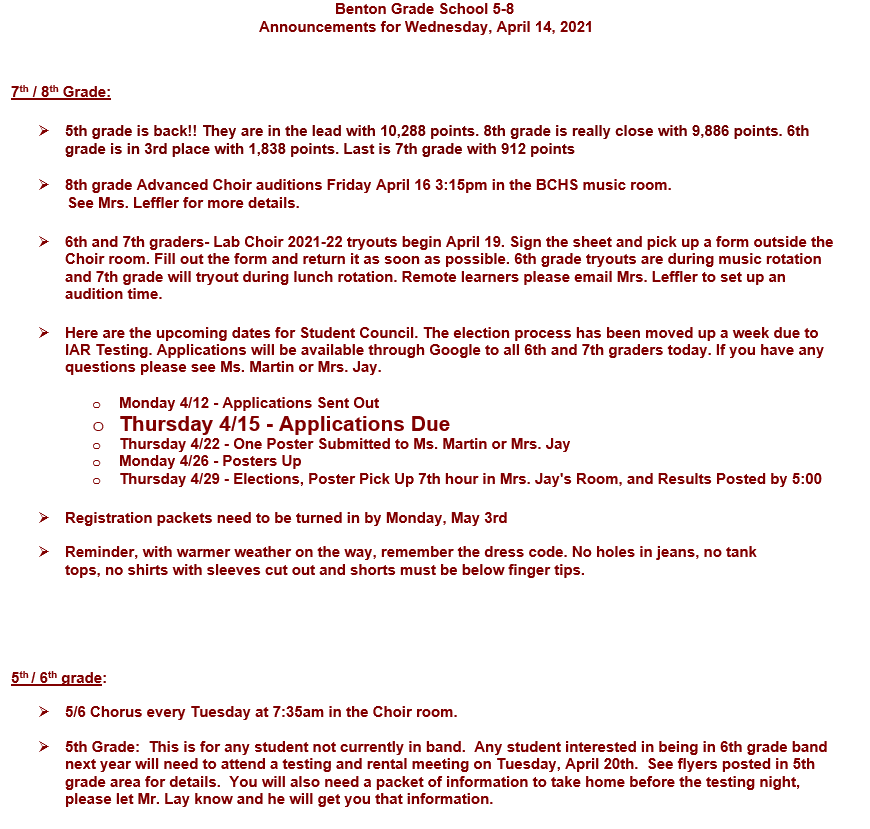 5-8 Announcements for 4-13-21

The girls basketball team begins regional play tonight at home (5:00). You must have a ticket from a player/cheerleader to attend the game. Fans will need to exit the gym at the end of the game to allow for cleaning before the next game's spectators enter. Both games will be live streamed on the Benton47 YouTube page:
https://www.youtube.com/channel/UCsPoC1CH3826Ymeuu7GIc8g
Admission for tonight's game is set by the SIJHSAA: Students (K-8) $2, Adults $3.

5-8 Announcements for 4-12-21