Reminder: Fall fundraiser order forms and money are due tomorrow (11/3/21). Please have students turn them into their homeroom teacher. Also, tomorrow (11/3/21) is a 2:00 PM dismissal. Have a great evening!

The girls basketball team has two home games this week, starting tonight at 5:30 PM vs Carmi. They host West Frankfort on Thursday beginning with a 'C' game at 4:30 PM/JV starts at 5:00 PM. The boys travel to West Frankfort on Thursday, for a 5:00 PM start. Good luck this week!

K-4 picture retake day is tomorrow (11/2/21). Order forms are available in the K-4 office, or pictures can be ordered online. The digital flyer is attached.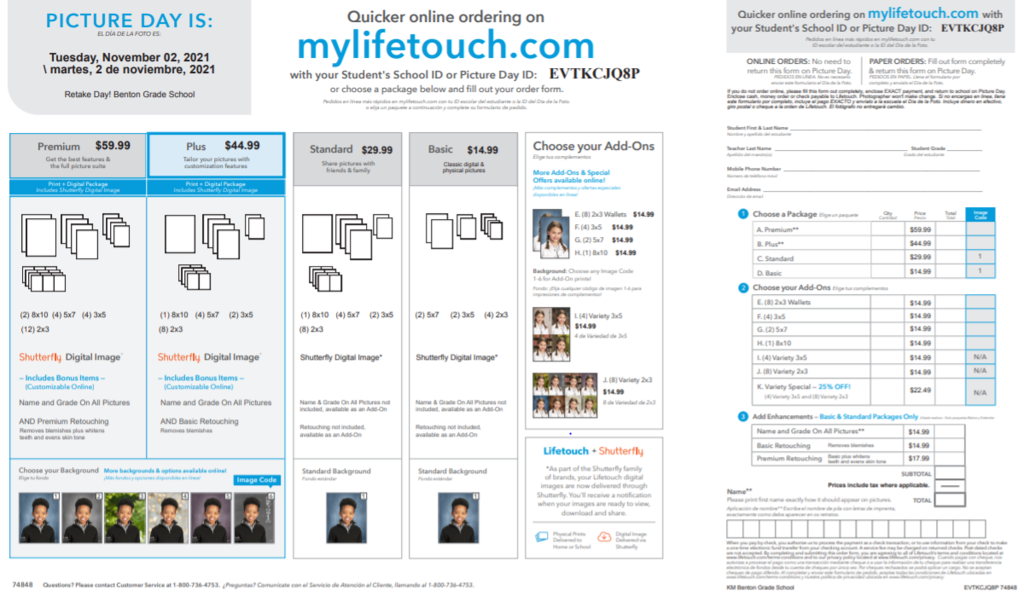 5-8 Announcements for 11/1/21: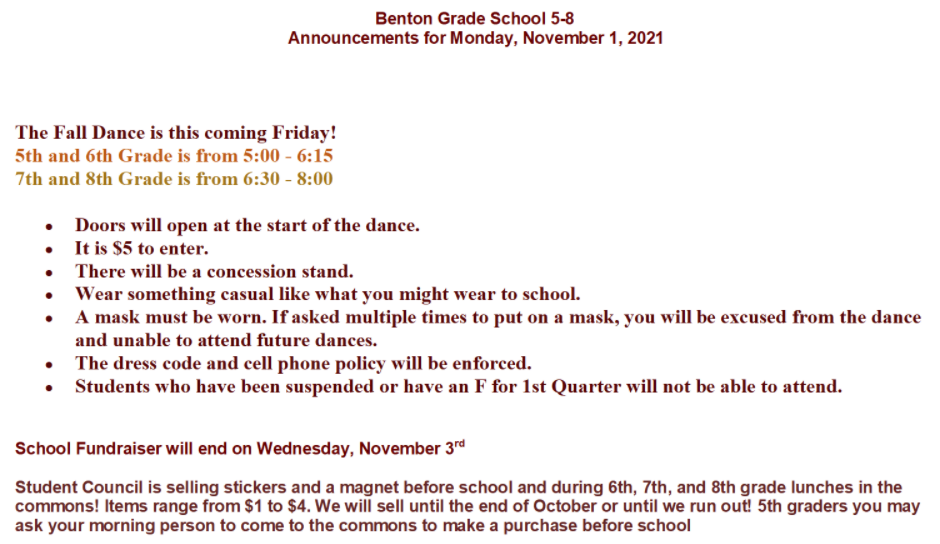 The BGS Student Council is excited to be hosting a fall dance for 5th-8th grade students on Friday, November 5th. Please see the attached flyer for specific details and requirements.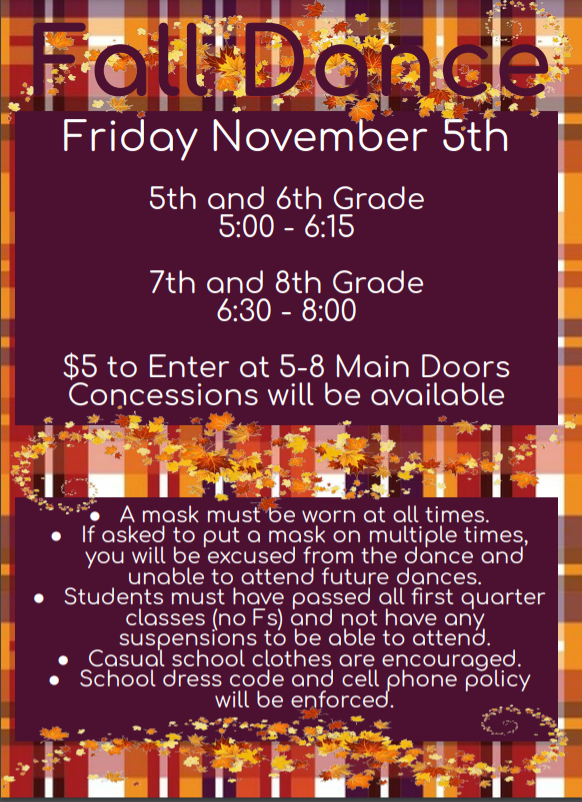 Purple, Orange, and Yellow buses might be running late this morning due to a mechanical issue. Drivers will be covering all routes, but pickup times might later than normal. We apologize for any inconvenience!

Student Council is having a sticker and magnet sale. Order forms were sent home with K-4 and 5-8 can purchase in the commons this week!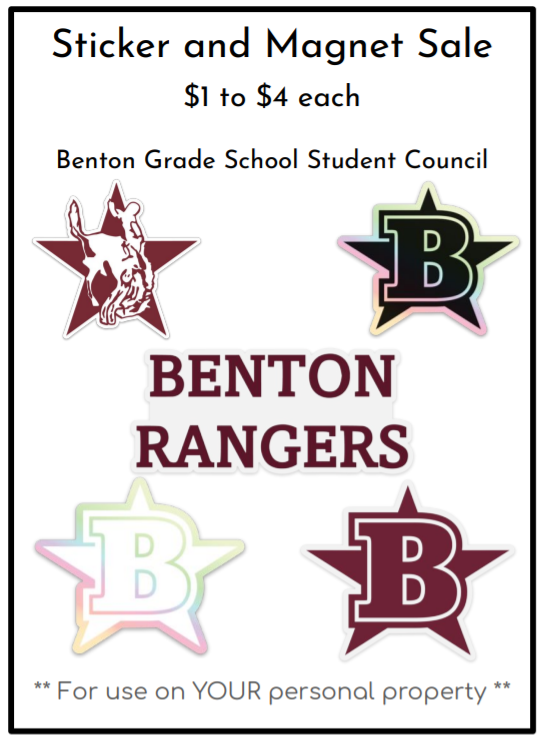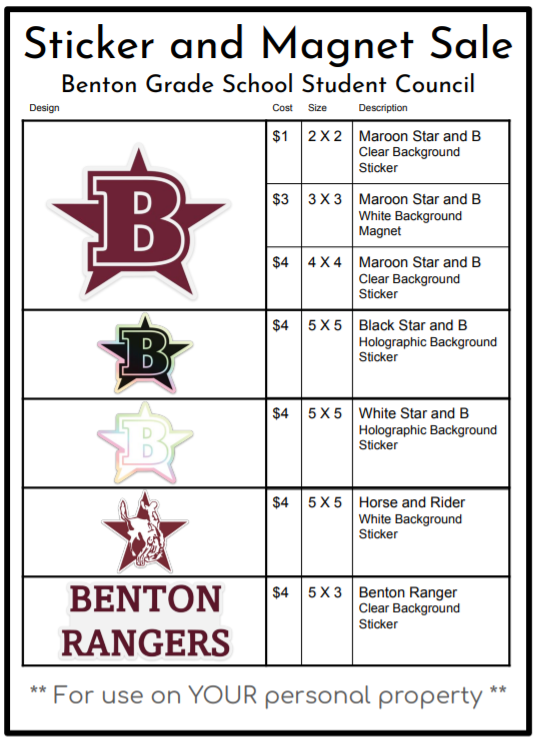 The girls' basketball team kicks off their season tonight against Mt. Vernon in the Benton around Robin Tournament. Their game starts at approximately 7:00 PM. The tournament schedule is attached. Good luck this season!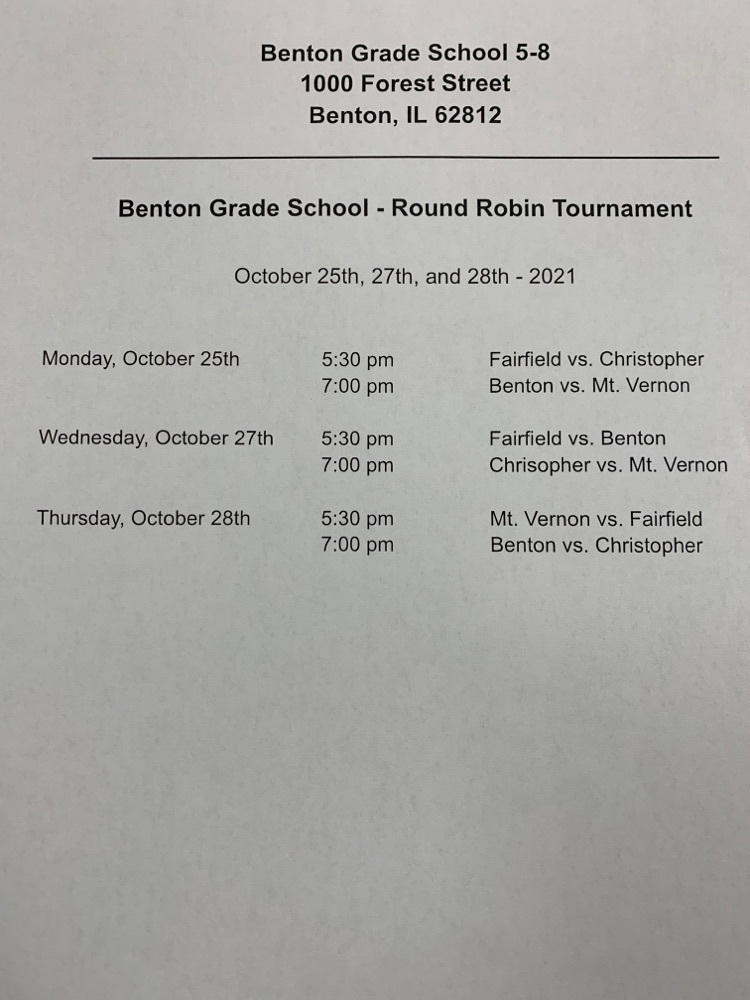 5-8 Announcements for 10-25-21: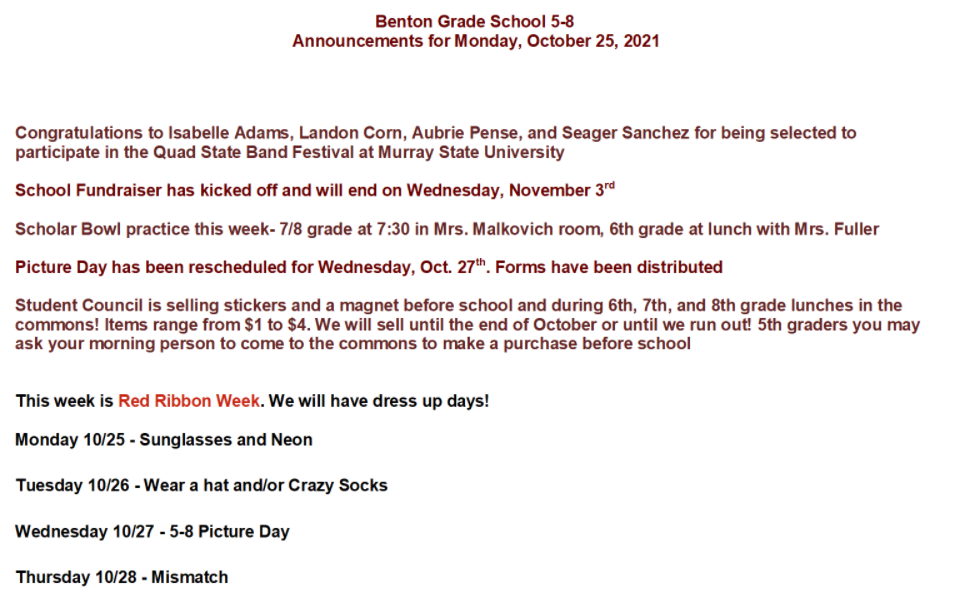 Congratulations to Wynter Eubanks, Kyler Followell, Waylon Williams, and Wyatt Williams for completing the summer reading program sponsored by State Representative Dave Severin.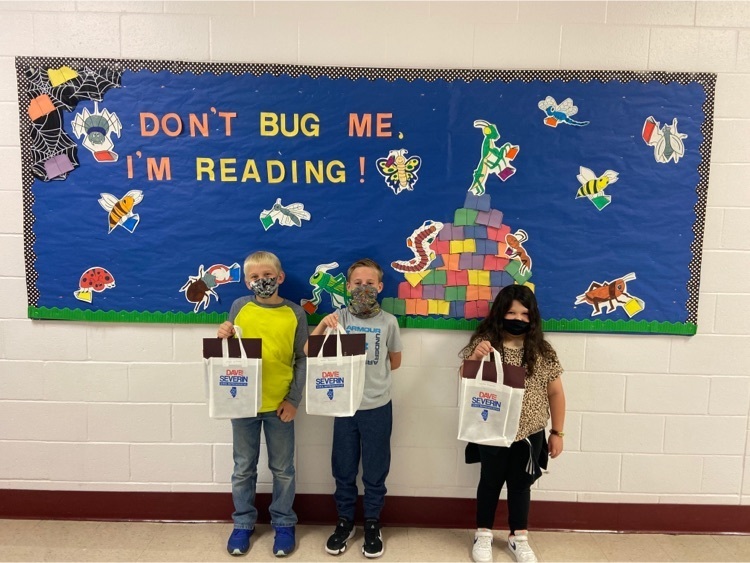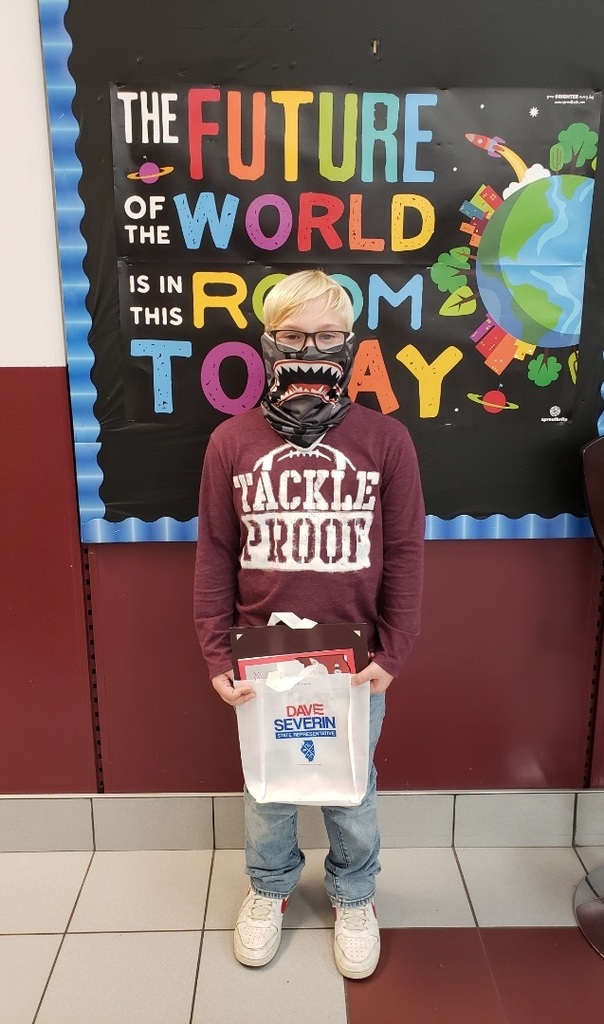 Three Benton Rangers were recently selected to play in the SIBCA Class L all-star game. Hunter Irvin, Clay Gage, and Nolan Schafer contributed to a 14-6 win for their team. Congratulations!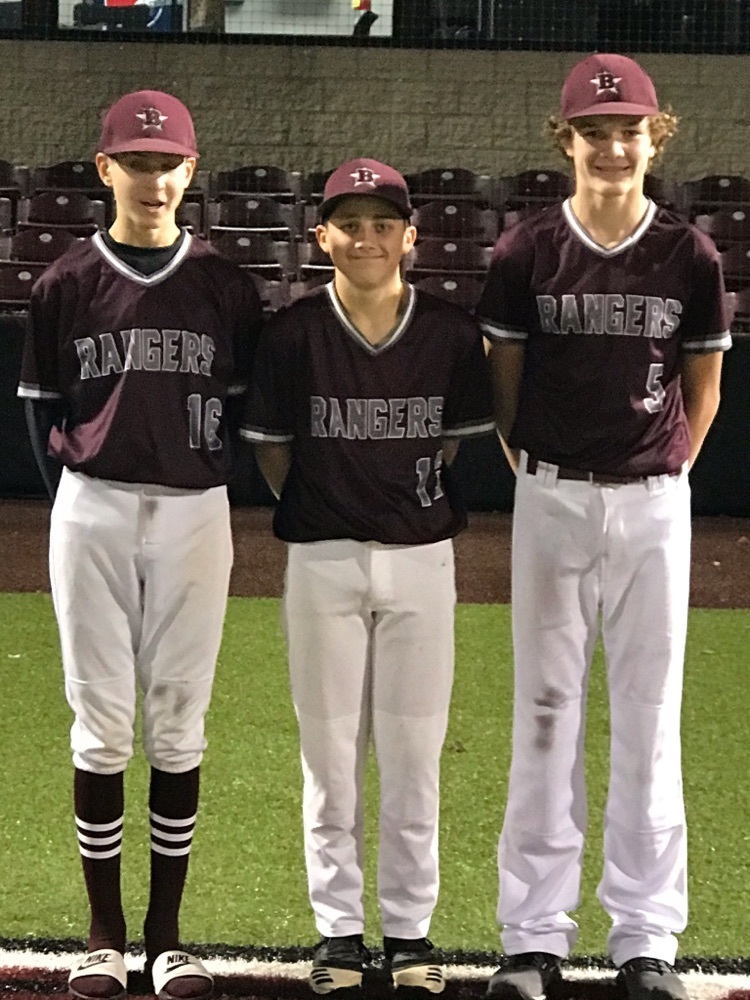 5-8 Announcements for 10/21/21: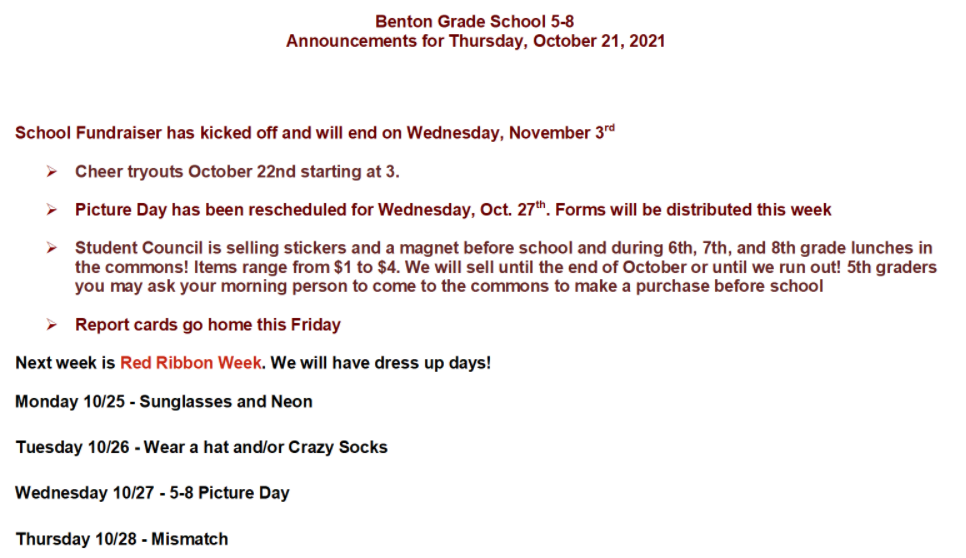 This week, BGS 5-8 students attended an assembly performance by the Wonder Wheel BMX Stunt Team. In addition to watching the BMX team perform thrilling stunts, students also received an inspirational message about hard work, dedication, setting goals, and being a positive influence within their community and school.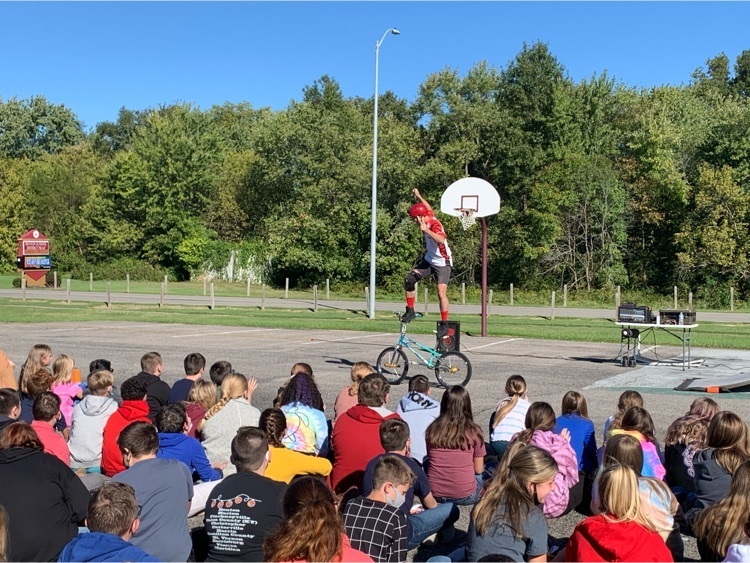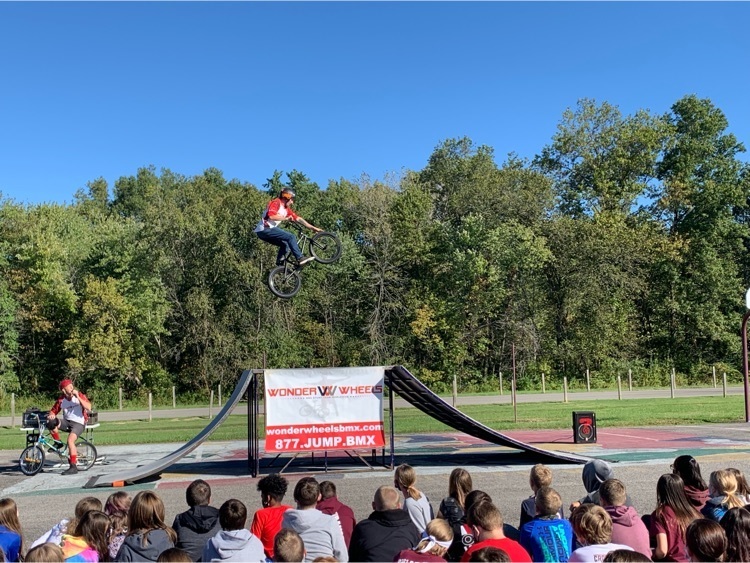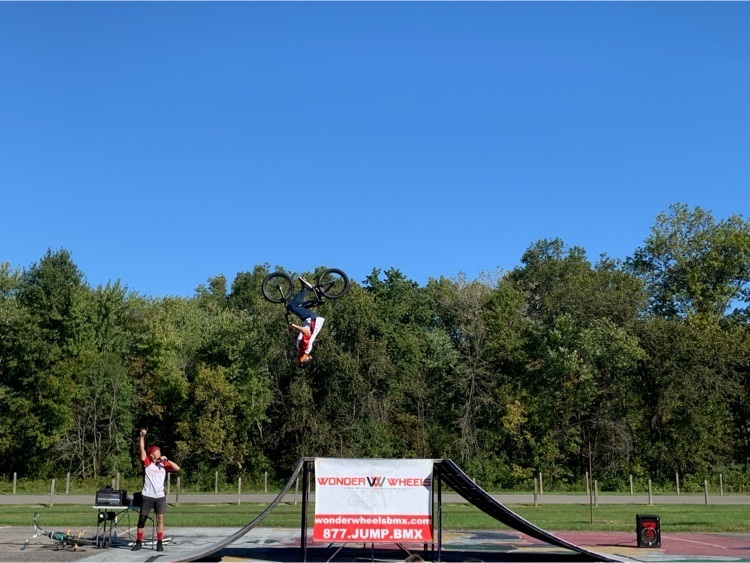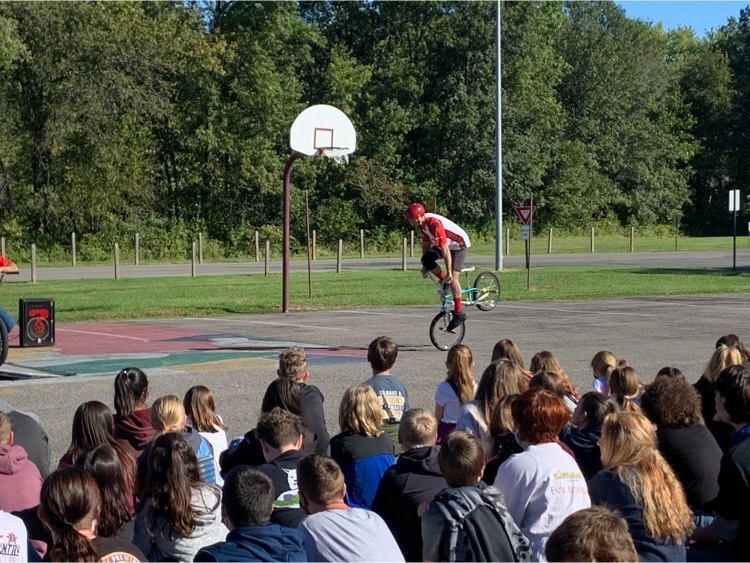 The Cheerleading clinic will be held in the 5-8 gym this evening from 5:30 - 7:30 PM for those 6th - 8th grade students interested in trying out for the team.

5-8 Announcements for 10/20/21: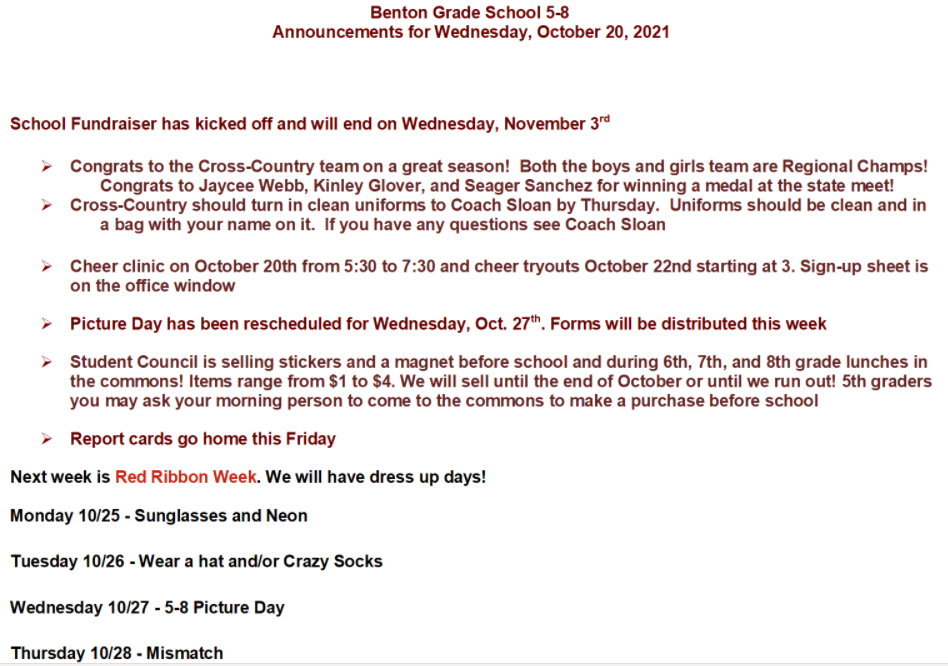 5-8 Announcements for 10-19-21: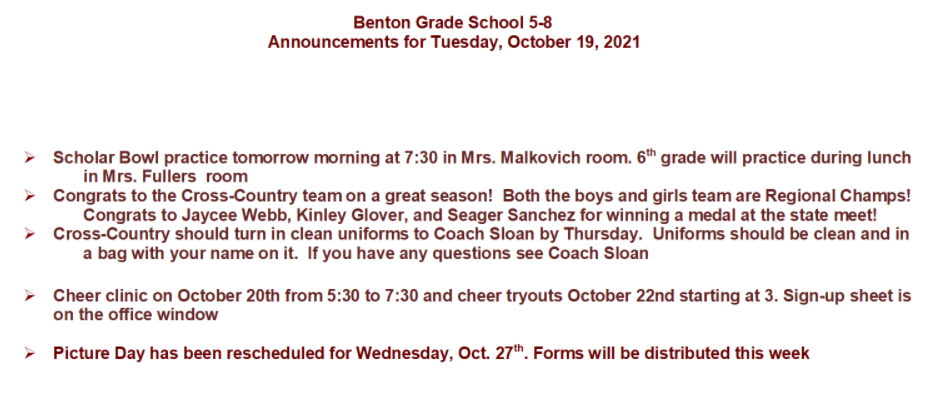 Reminder: Parent/Teacher Conferences will be taking places on Tuesday (10/19) and Thursday (10/21) evenings this week over the phone. If you need to schedule a conference for your 5-8 student, please call the office (438-4011).

The boys and girls basketball schedules for the 2021-2022 season are attached. At this time, there is not a restriction on spectator capacity, but everyone will be required to wear a mask while in the building. We're looking forward to great seasons for both teams!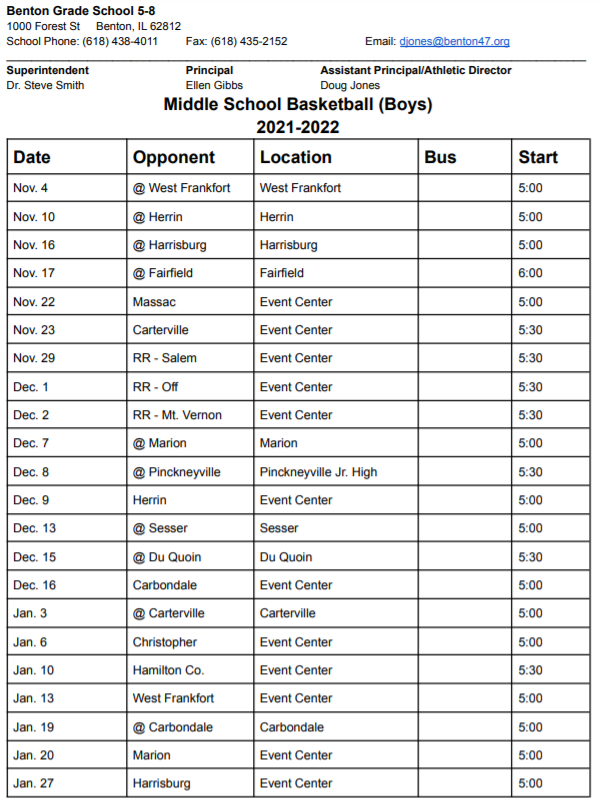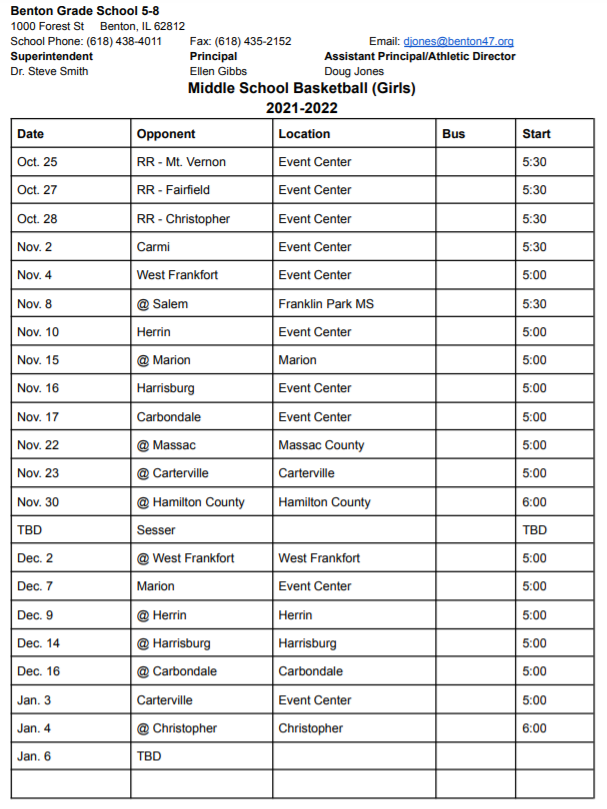 Congratulations to our state medalist cross country runners Seager Sanchez (25th), Jaycee Webb (20th), and Kinley Glover (23rd). Way to represent your team, school, and community!

Athletic Schedule for 10/18/21 - 10/23/21 attached: