The SIJHSAA will be following the Governor, IDPH, and ISBE guidelines for winter sports. Basketball, volleyball, and cheerleading have currently been postponed until approved by the IDPH Return to Play Guidelines. Updates for open gyms and tryouts will be posted as more definite dates become available.

5-8 Announcements for 11-5-20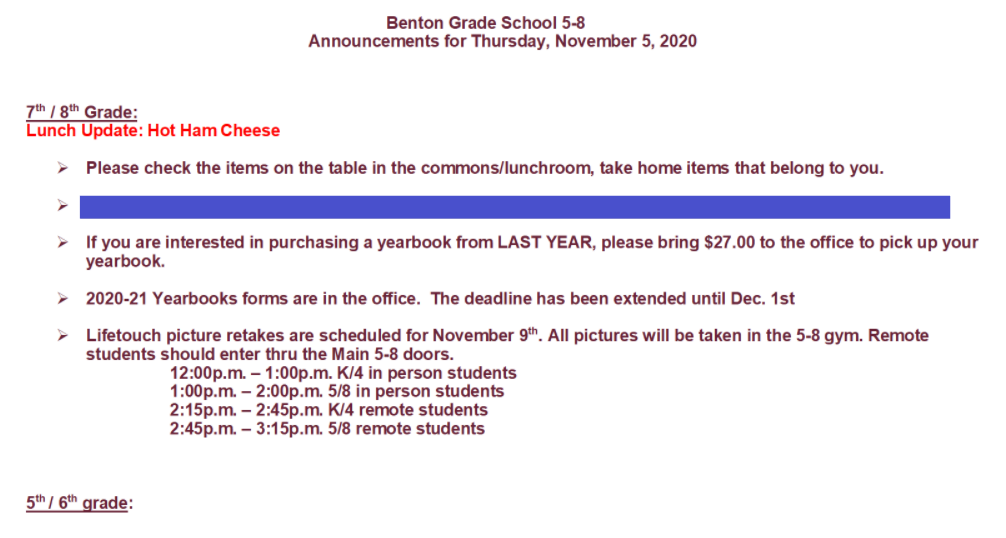 Good afternoon parents, this is Steve Smith, Superintendent at BGS. As you know, having students and teachers in class teaching and learning has been the goal from the very beginning of school and continues today. BGS faculty and staff, through it all, have been amazing and have met the current challenges we face head on. However, due to COVID-19, we are really struggling with daily staffing needs. We currently have multiple staff members on quarantine. Today, we were substantially understaffed, but safely managed. Additional absences above current levels will be unmanageable. In addition, the number of substitute teachers for many of these positions remains severely limited. The purpose of my communication is to provide advance notice and to encourage you to have an alternative supervision plan for your student/s in the event we are required to have a short-term closure. Again, this is simply an advance communication in case we are required to go that direction. We do not want to put you in a "last minute" situation where you are scrambling to find viable supervision for your children. Thank you, have a wonderful evening.


Cheerleading practice/tryouts have been pushed back until we find out specific details about basketball season. We are hoping to receive more information from the SIJHSAA by the end of the week. Continue to check back for more updates.

5-8 Announcements for 11-2-20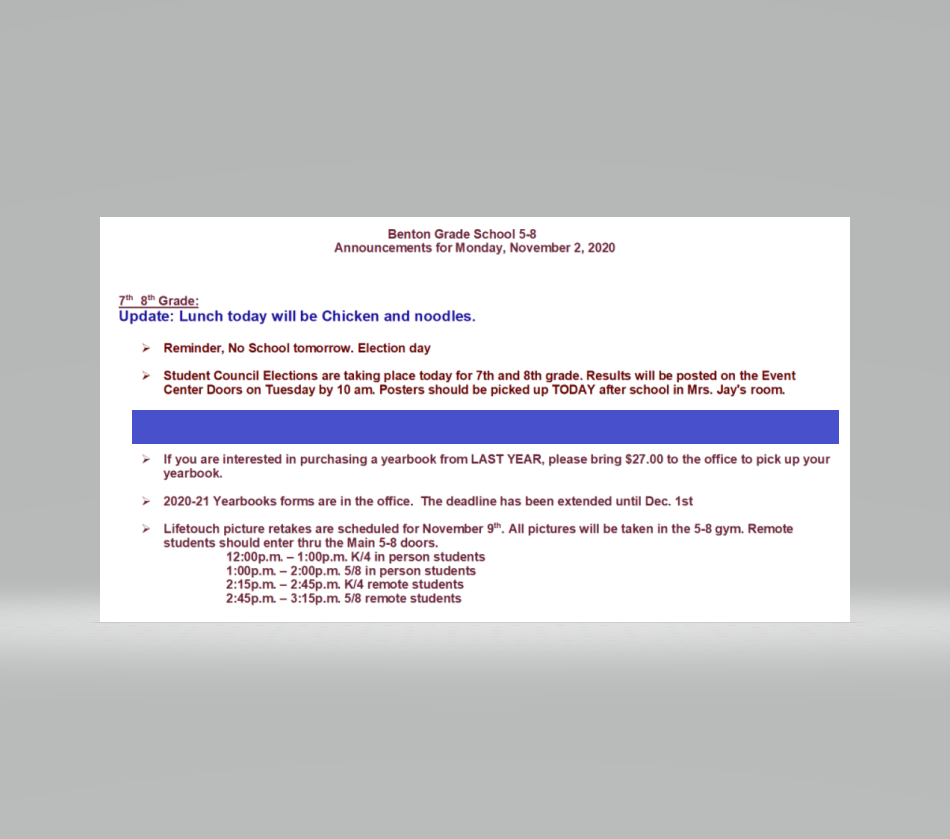 Basketball Open Gyms: At this times, we are waiting on specific details about what basketball season is going to look like. For this reason, there will not be any open gyms next week (Nov. 2 - Nov. 6). Look for additional announcements as more information becomes available.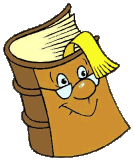 5-8 Announcements for 10/29/20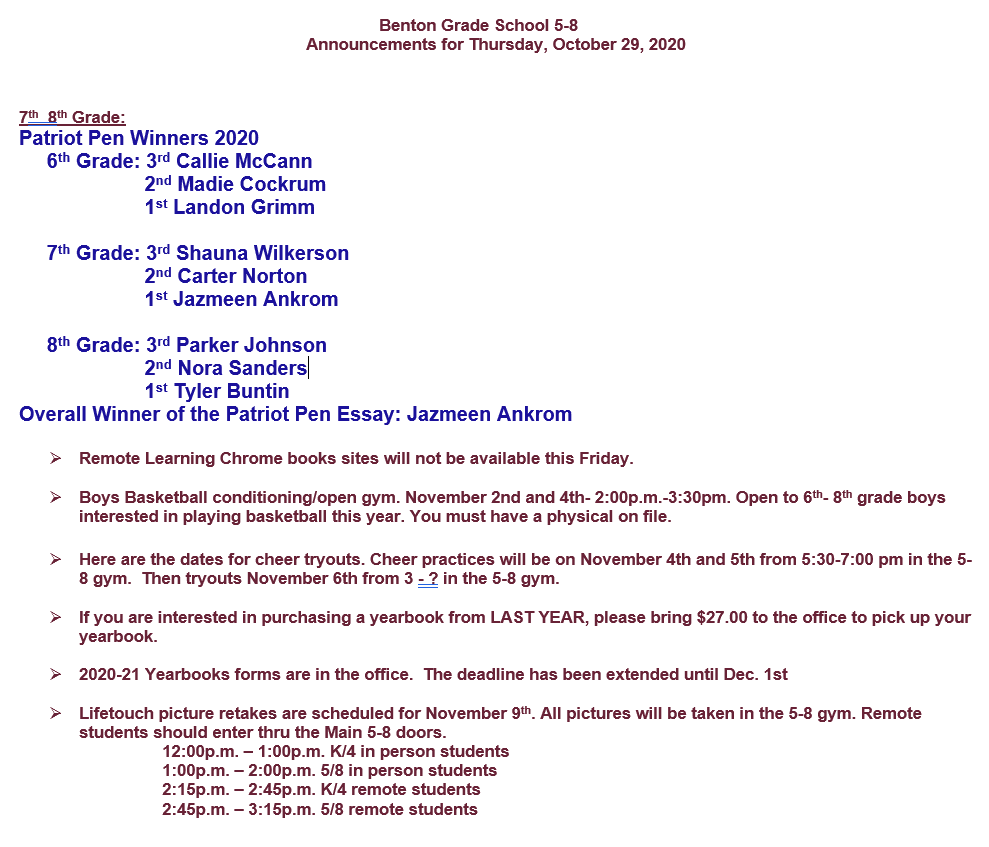 5-8 Announcements for 10/28/20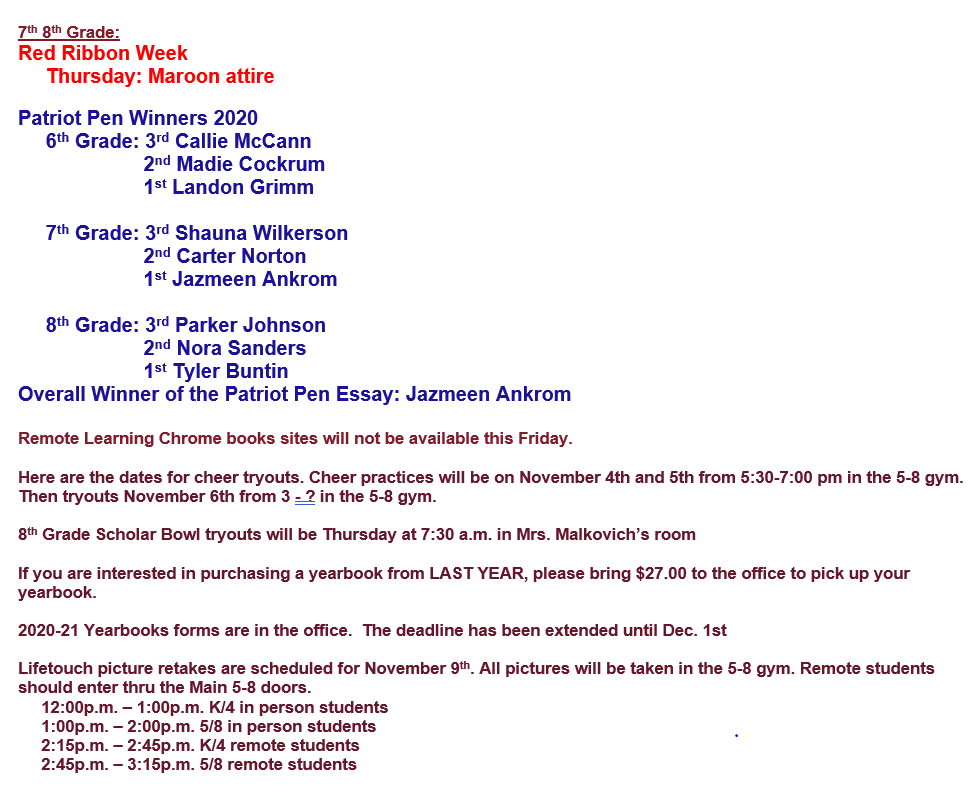 Recently, 6th-8th students participated in the Patriot's Pen essay contest sponsored by the V.F.W. See full details about the contest and grade level winners in the NEWS section of the website/app. Jazmeen Ankrom was selected as the overall winner for BGS 47. Congratulations!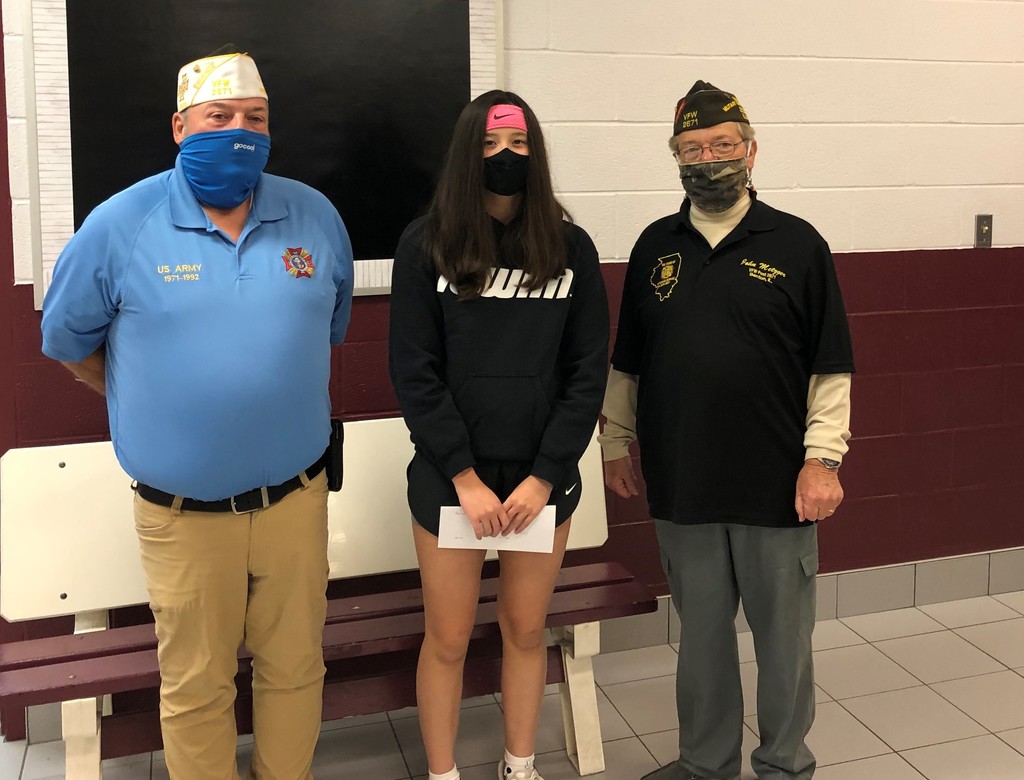 Picture Retake Day (Monday, November 9th): 12:00-1:00 (K-4 in-person students), 1:00-2:00 (5-8 in-person students), 2:15-2:45 (K-4 remote students), 2:45-3:15 (5-8 remote students). All remote students should enter the 5-8 doors to self certify as they enter the building.

Keep watching for daily 5-8 announcements: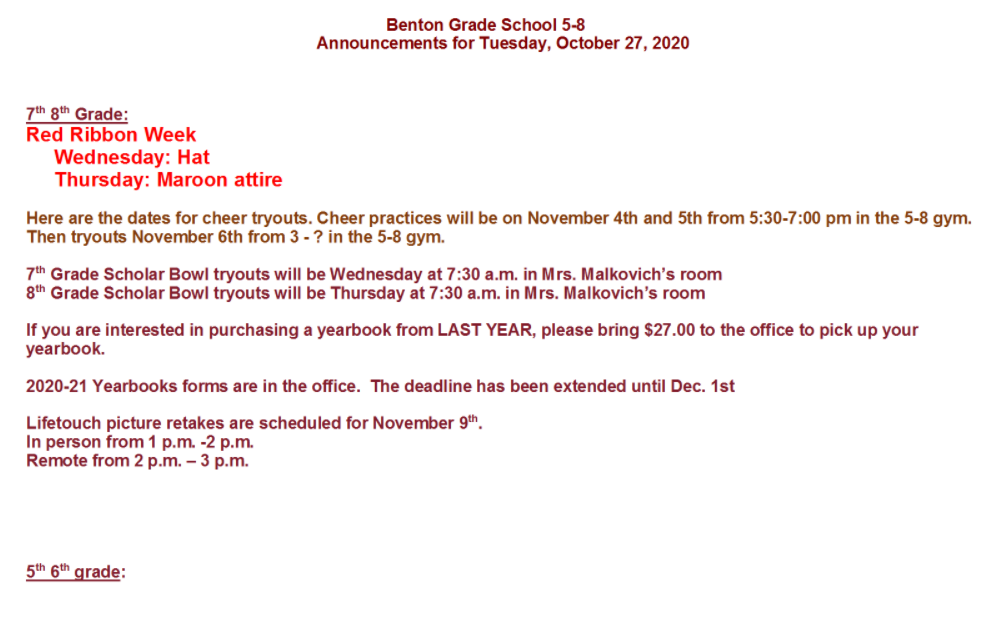 5-8 Announcements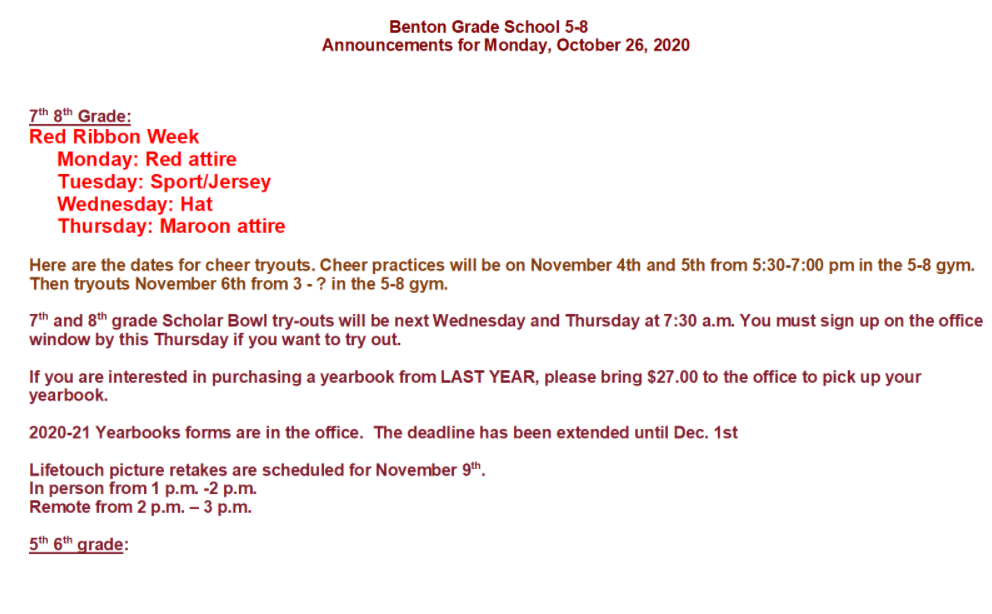 Another state trophy for the Rangers! The boys ended up in 4th place overall. Gabe McLain fished 2nd and Cole Buchanan finished 3rd earning state medals. It was a great day for all of the runners!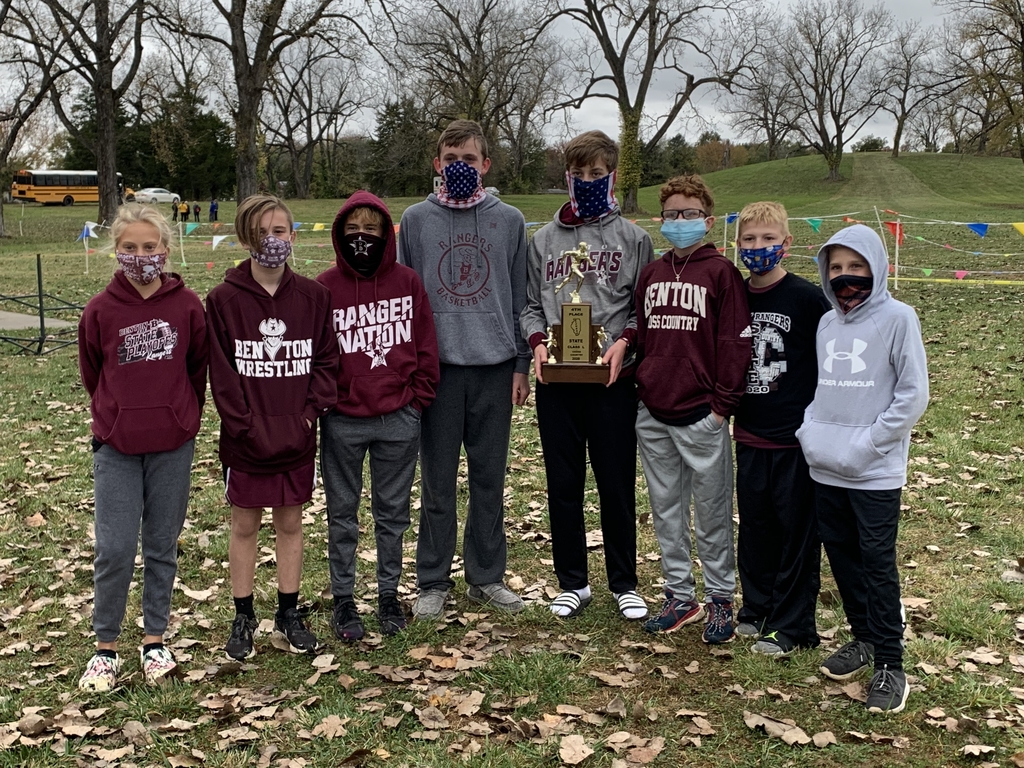 5-8 Announcements

5-8 remote learners school pictures can be picked up Thursday, October 22 at the Event Center from 2:00-3:00 or Friday October 23 from 8:00 to 2:00 at the Event Center.

Red Ribbon Week Oct. 26-29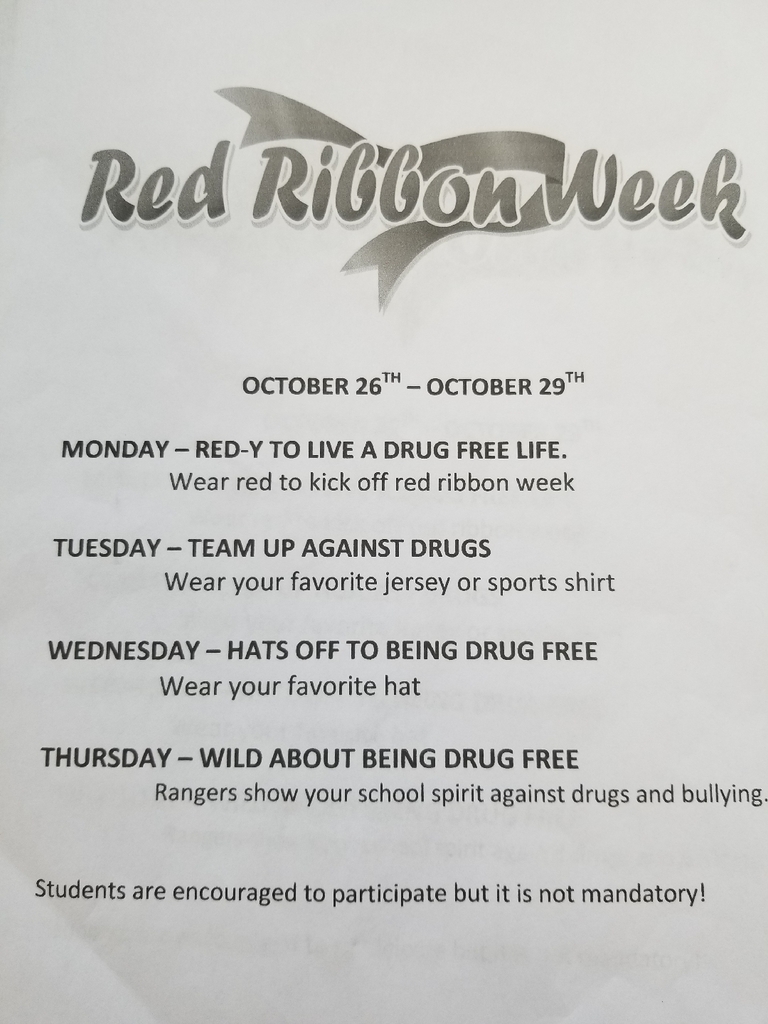 Even though spectators aren't allowed at the state cross country meet, we can still send them off in style. The bus will be leaving the school at 12:30 PM this Friday. Feel free to come out and cheer the runners on as they head to Du Quoin! Good luck!!!