5-8 Announcements for 3-4-21


The volleyball regional kicks off tonight. Benton plays West Frankfort at 5:00 PM, followed by DuQuoin and Johnston City. Each team was provided with 25 spectator tickets. Doors will open at 4:40 PM for those with tickets to the first game. Spectators for the second game will be allowed to enter once the gym has been cleared and cleaned. We appreciate everyone's cooperation during a season that has been far from normal. Both games will be live streamed on the Benton 47 YouTube channel.
https://www.youtube.com/channel/UCsPoC1CH3826Ymeuu7GIc8g/videos?view=0


Congratulations to the Varsity boys' basketball team on an exciting, overtime win against Carterville last night. The boys will be back in action for their final regular season game this Thursday at Carbondale. Carbondale streams games through their Facebook page, "Carbondale Elementary School District #95 Sports".

We were experiencing technical difficulties with the Live Stream of the 8th grade basketball game. Check the Benton 47 you tube page as we should be back up and running. Benton is up 13-7 after the 1st quarter.


5-8 Announcements for 3-2-21



5-8 Announcements for 3-1-21


Weekly Athletic Calendar (3/1-3/6)


The volleyball team is in action tonight at home against Herrin. The JV game starts at 5:00. Doors for JV ticket holders will open at 4:40 PM. Varsity ticket holders will be able to enter the Event Center once the JV fans exit. The boys' basketball team will be traveling to Herrin tonight for a 5:00 PM start. Live stream links for both games are provided below. VB:
https://www.youtube.com/results?search_query=benton47
BB:
https://www.sportscopelive.com/

Spring pictures have been rescheduled for 5-8 students. Pictures will take place on Wednesday, March 3rd. Our Lifetouch Picture Day ID is: EVTB9BSCB

5-8 Announcements for 2-25-21


Congratulations to the scholar bowl team for opening up their season with two wins against Christopher!

The 2021 girls' basketball roster will be posted on the Event Center doors by 6:00 PM this evening. We're looking forward to girls' basketball season starting soon!

Dr. Seuss Week March 1-4, 2021 Kindergarten & 1st Grade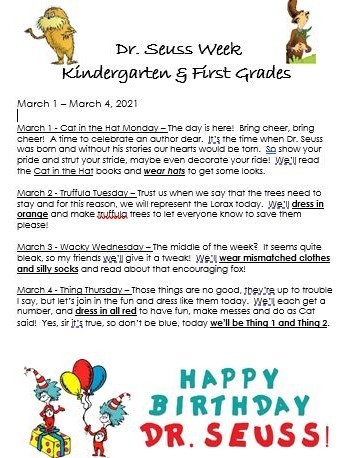 5-8 Announcements for 2-24-21:



Rosters for tonight's basketball games.